Prep Time
Cook Time
Servings 16
Difficulty Easy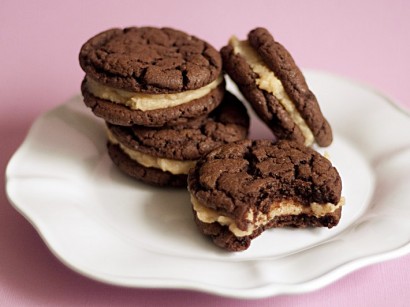 Ingredients
FOR THE COOKIE:
2 whole Large Eggs
½ cups Vegetable Oil
¼ cups All-purpose Flour
1 box Devil's Food Cake Mix, 18.25 Oz
_____
FOR THE FROSTING:
4 ounces, weight Cream Cheese, Softened
¾ cups Smooth Peanut Butter
1 teaspoon Pure Vanilla Extract
2-½ cups Powdered Sugar
3 Tablespoons Milk
Preparation Instructions
For the cookies:
Preheat oven to 350ºF. Lightly whisk eggs and oil in a medium bowl. Mix in flour and cake mix until well blended. Roll into 1 inch balls and bake for 8-10 minutes on an ungreased cookie sheet. Cool completely on a wire rack.
For the frosting:
In a medium bowl cream together cream cheese, peanut butter and vanilla. Add in powdered sugar and mix until smooth. Add in milk a little at a time until you get the desired consistency.
Spread about 2 Tablespoons of frosting onto the bottom of one cookie and then place another cookie on top, bottom sides facing in. Repeat with remaining cookies and frosting.