Prep Time
Cook Time
Servings 3
Difficulty Easy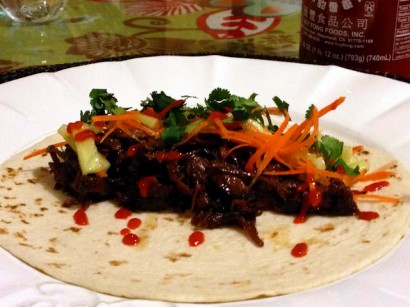 Ingredients
FOR THE KOREAN SHORT RIBS:
5 cloves Garlic
1-½ whole Inches Of Ginger, Peeled
¾ cups Soy Sauce
½ cups Plus 3 Tablespoons Brown Sugar
6 Tablespoons Rice Vinegar
2 Tablespoons Sesame Oil
1 teaspoon Red Pepper Flakes
3 pounds Beef Short Ribs
FOR THE CUCUMBER SLAW:
½ whole Hot House Cucumber
½ whole Carrot
4 teaspoons Rice Vinegar
1 teaspoon Sugar
2 pinches Salt
1 pinch Red Pepper Flakes
FOR SERVING:
4 whole Tortillas
2 Tablespoons Cilantro For Garnish
Preparation Instructions
For the Korean short ribs:
In a mini food processor, blend garlic and ginger until minced. Mix with soy sauce, brown sugar, rice vinegar, sesame oil, and red pepper flakes.
Place short ribs in crockpot and pour sauce over ribs. Turn crock pot on low heat. Cover with a lid and cook for 6-8 hours.
Remove meat from pot, discard bones. Place in the fridge to chill to touch.
Meanwhile, skim fat off the top of the sauce. Place in a sauce pan and simmer until thickened.
Once meat is cool to touch, pull apart with your fingers. Pour about 1/2 cup of the sauce back into the meat. You may serve the extra sauce on the side or discard it.
For the cucumber slaw:
Peel cucumber and chop into matchsticks. Peel carrot and shred.
Mix carrot and cucumber with rice vinegar, sugar, salt and red pepper flakes.
Serve meat on a warm tortilla topped with slaw and cilantro.