Prep Time
Cook Time
Servings 8
Difficulty Easy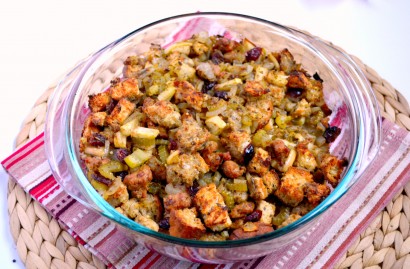 Ingredients
1 loaf Harvest Grain Bread
3 pieces Turkey Sausage Links
2 Tablespoons Olive Oil
4 stalks Celery, Sliced
2 whole Onions, Diced
1 Tablespoon Poultry Seasoning
½ teaspoons Salt
1 whole Honeycrisp Apple, Diced
½ cups Dried Cranberries
½ cups Low Sodium Chicken Broth
Preparation Instructions
Cut the bread into cubes. Try to remove most of the crust. Toast the bread cubes for 15 minutes at 350°F, flipping them once. Put the bread into a large bowl.
While you are toasting the bread, cook the sausage. Heat a medium skillet over medium-high heat. When the skillet is hot, remove the sausage from the casing and add it to the skillet. Cook it, breaking it into small pieces, until it is cooked through. Add the sausage to the bread cubes.
Add the olive oil to the skillet, and then add the celery, onions, poultry seasoning, and salt. When the celery and onions begin to soften, add the apples and cranberries. Cook for another 5 minutes.
Add the celery, onion, apple mixture to the sausage and bread. Pour the chicken broth over everything and mix it well. Transfer the stuffing to a buttered casserole dish, with a lid or covered in aluminum foil, and cook for 20 minutes at 400°F. Uncover and cook for another 15 minutes.
Alternatively, you could stuff the stuffing into your turkey. In that case, let the stuffing come to room temperature before you stuff the turkey (never put hot stuffing in the bird!).