Prep Time
Cook Time
Servings 6
Difficulty Easy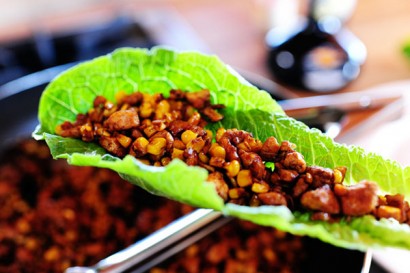 Ingredients
2 teaspoons Peanut Or Olive Oil
1 package (about 12-14 Oz. Size) Firm Tofu
2 ears Corn (or 1 1/2 Cups Frozen Corn Kernels)
¼ teaspoons Chili Powder (more To Taste)
¼ cups Soy Sauce
Romaine Lettuce Hearts
2 whole Avocados, Sliced
1 teaspoon Balsamic Vinegar (optional)
Preparation Instructions
Heat oil in a nonstick skillet over medium-high heat. Throw in the tofu, then break it up into very small pieces. Cook tofu for several minutes, until much of the liquid cooks off and tofu starts to turn golden.
Cut kernels off the cobs of corn and throw it in with the tofu. Cook for a few minutes (corn can remain crunchy.)
Add chili powder and soy sauce, then cook until most of the liquid has been absorbed. Turn off heat and stir in balsamic if using.
Pile mixture into romaine hearts, then add sliced of avocado. Fold up and chow down!