Prep Time
Cook Time
Servings 8
Difficulty Easy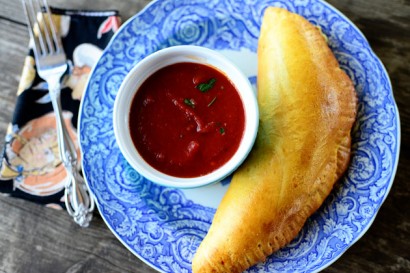 Ingredients
16 whole Frozen, Unrisen Dinner Rolls (I Use Rhodes) Note: Can Also Use Frozen Bread Loaves.
1 Tablespoon Butter
1 whole Medium Onion, Diced
1 pound Breakfast Or Italian Sausage
½ teaspoons Italian Seasoning
¼ teaspoons Red Pepper Flakes
15 ounces, fluid Whole Milk Ricotta Cheese
½ cups Grated Parmesan Cheese
1-½ cup Grated Mozzarella Cheese
2 whole Eggs
½ teaspoons Salt
Black Pepper To Taste
2 Tablespoons Chopped Fresh Parsley
Marinara Sauce, For Serving
1 whole Egg, Beaten
Preparation Instructions
Place frozen rolls (or frozen bread loaves) on a baking sheet to thaw. Cover with a tea towel and let thaw and rise for 2 to 3 hours.
Preheat oven to 400 degrees.
Melt butter in a large skillet over medium-high heat. Add onion and allow to cook for a couple of minutes. Add sausage and cook until brown, crumbling the sausage as you stir. Add Italian seasoning and red pepper flakes. Remove from pan and allow to cool on a plate.
In a separate bowl, combine ricotta, Parmesan, mozzarella, eggs, salt, pepper, and parsley. When sausage is cool, stir it in. Set aside.
When rolls are thawed and risen, roll them out on a lightly floured surface until paper thin. Spoon 3-4 tablespoons (approximately) filling onto half of the dough circle. Fold half of the dough over itself, then press edges to seal.
*Note: If you want a larger calzone, use frozen bread loaves and use about 1/4 to 1/3 of the loaf for each calzone.
Brush surface of calzone with beaten egg, then bake for 10-13 minutes, or until nice and golden brown. Serve with warm marinara sauce.