Prep Time
Cook Time
Servings 2
Difficulty Easy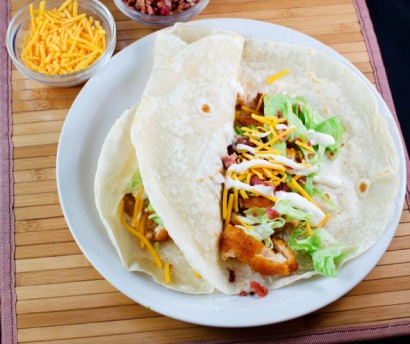 Ingredients
4 whole Breaded Chicken Strips, Frozen, Store Bought
⅓ cups Winger's Buffalo Wing Sauce
¼ cups Bacon Bits
¼ cups Tomato, Chopped
¼ cups Shredded Cheddar Cheese
½ cups Lettuce, Shredded
4 whole Tortillas
2 Tablespoons Ranch Dressing
Preparation Instructions
1. Cook chicken strips according to package directions.
2. When done, put the chicken into a small bowl. Drizzle the sauce over the chicken breasts and toss to coat them on all sides.
3. Cut chicken breasts into thin strips. If they are long, cut them in half.
4. Put chicken, bacon bits, tomato, cheese and lettuce in a tortilla. Split all of the ingredients evenly between 4 tortillas.
5. Drizzle ranch dressing over the top of everything. Enjoy.