Prep Time
Cook Time
Servings 10
Difficulty Easy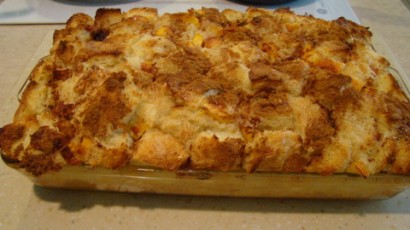 Ingredients
FOR BREAD PUDDING:
3 whole Eggs
3 Tablespoons Butter, Melted
2 Tablespoons Vanilla
2-½ cups Half-and-Half Or Milk
2 cups Sugar
2 cups Fresh Peaches, Pitted And Diced
1 pound Sourdough Bread, 1" Cubed
½ cups Pecans, Chopped (optional)
_____
FOR RUM SAUCE
½ cups Butter
1 cup Sugar
1 teaspoon Vanilla
1 whole Egg
3 Tablespoons Rum, Or To Taste
Preparation Instructions
Preheat oven to 325 degrees F.
In a large bowl beat 3 eggs, add 3 tablespoons melted butter, 2 tablespoons vanilla, and 2 1/2 cups half and half. Add 2 cups sugar slowly, stirring until it is dissolved. Add peaches and bread, mixing well. Allow mixture to soak into bread 30 minutes.
Spread a bit of butter in a 9 X 13 X 2-inch pan or dish. Pour in the bread mixture, and sprinkle on pecans if using. Bake uncovered 50 to 60 minutes, or until knife inserted in center comes out clean.
For rum sauce:
Cream 1/2 cup butter with 1 cup sugar. Add 1 teaspoon vanilla. Stir in 1 egg, then add rum. Stir over low heat for about 5 minutes. Serve warm over individual servings of pudding.