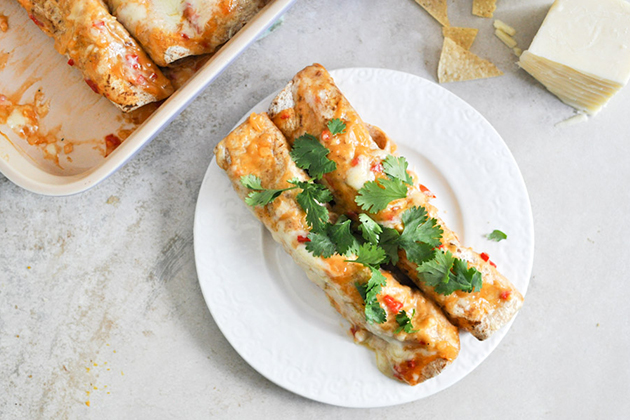 Enchiladas are a special food in our house. They are, as I like to refer to them, my weapon. They were the first meal I ever made for my husband and THE meal I make when I … well, quite frankly, when I want something. That something could really be anything, like the replacement of the high light bulb I can't reach, which I've incessantly nagged about or the purse I "accidentally" purchased and let him "accidentally" see. Either way, they are one of my husband's favorite meals and something I make probably twice a month.
The thing is, they are pretty decadent. We like lots of sodium-laced sauce, tons (no really—tons) of cheese inside and out, and really huge puffy flour or soft corn tortillas. And let's not forget what goes on top: sour cream, more cheese, and obviously guacamole. Hello lover.
So enter Laurie's recipe for Lightened Up Chicken Enchiladas. Oh my goodness, I was so excited I almost died. But then I was even more excited after I made them and we seriously loved on the entire pan. These are super delicious, so let's get started!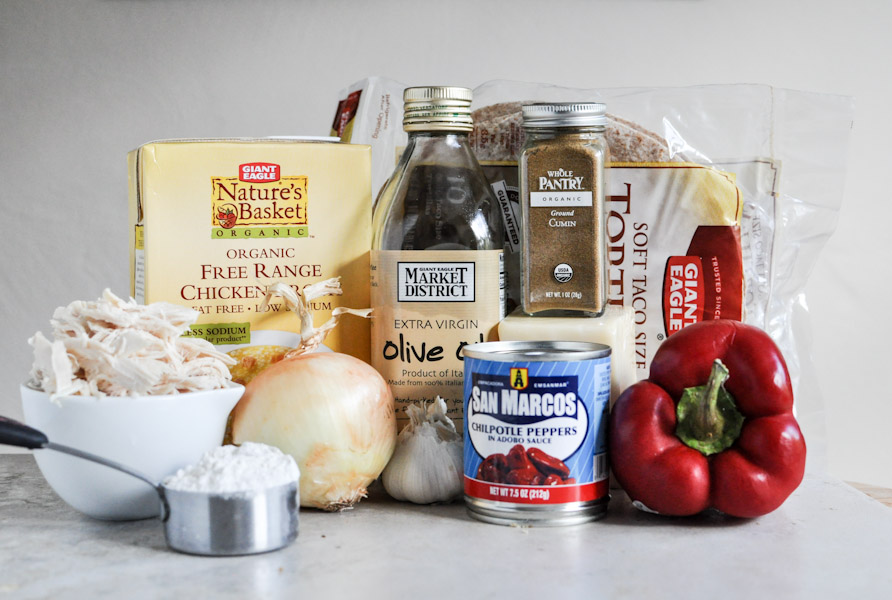 You need some cooked and shredded chicken, low-sodium chicken stock, flour, a sweet onion, a few garlic cloves, olive oil, whole wheat tortillas, cumin, chipotle peppers in adobo, a red pepper and of course, cheese.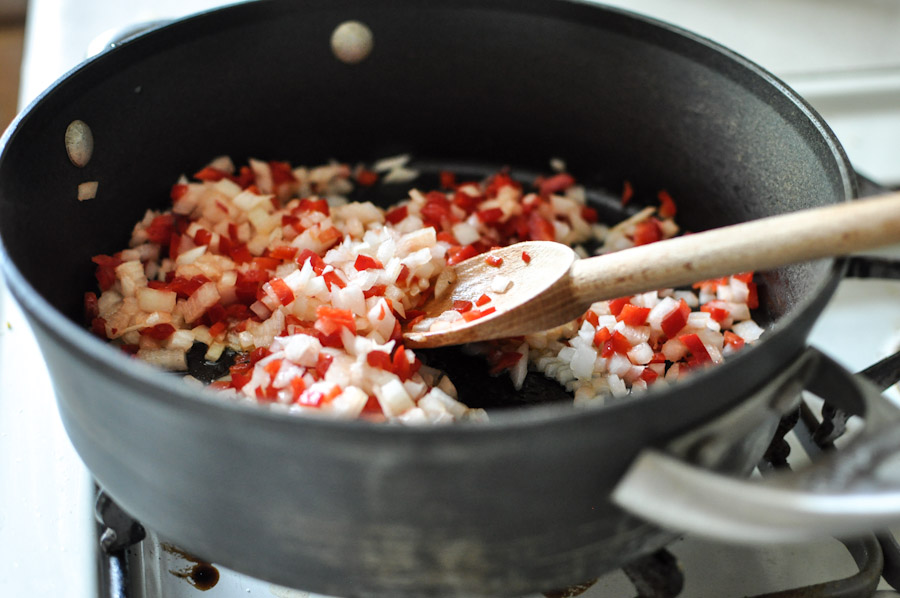 First up, dice your peppers and onions and add them to a skillet with some olive oil. After sautéing until soft, add in your garlic and cook for a few seconds until fragrant.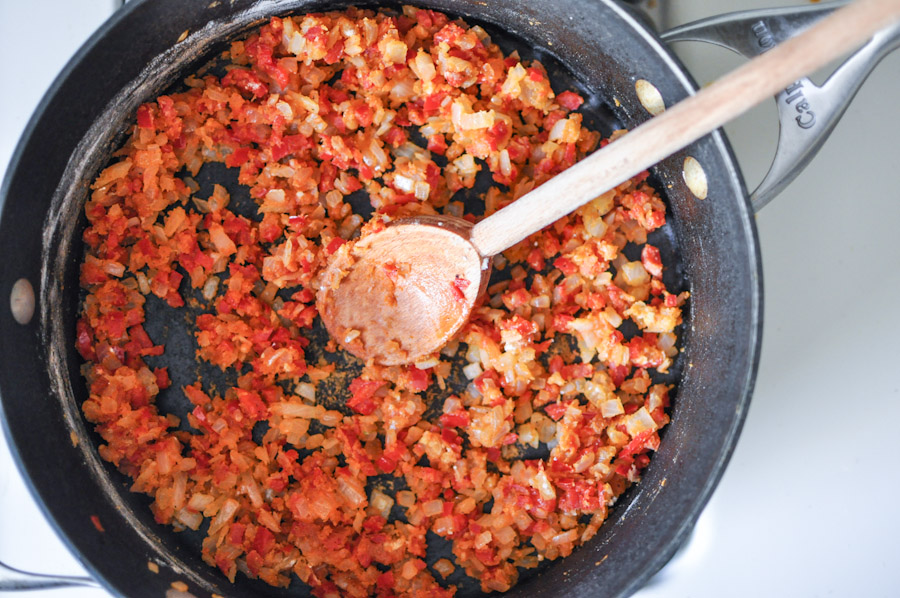 Stir in the flour, chopped peppers and cumin.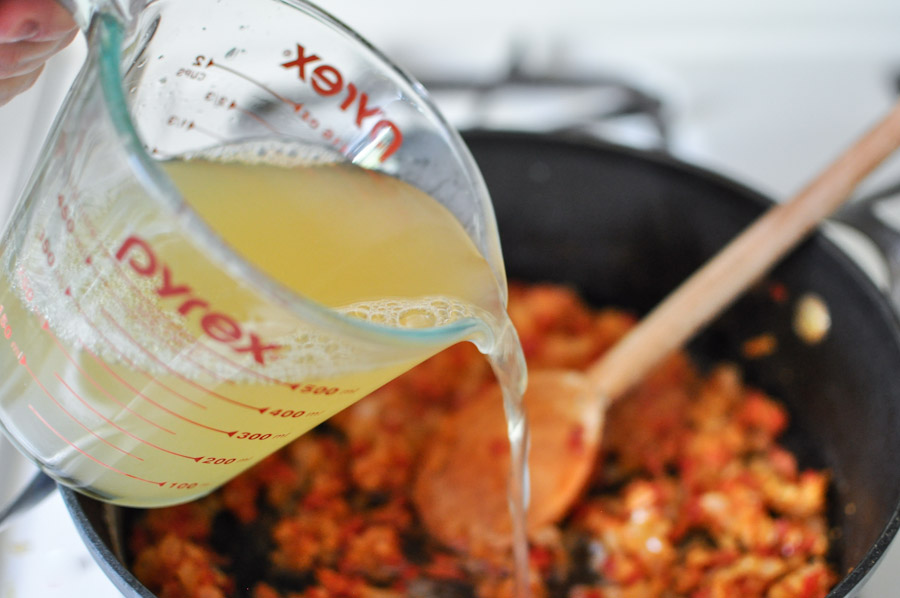 Then add your chicken stock and water, whisking well.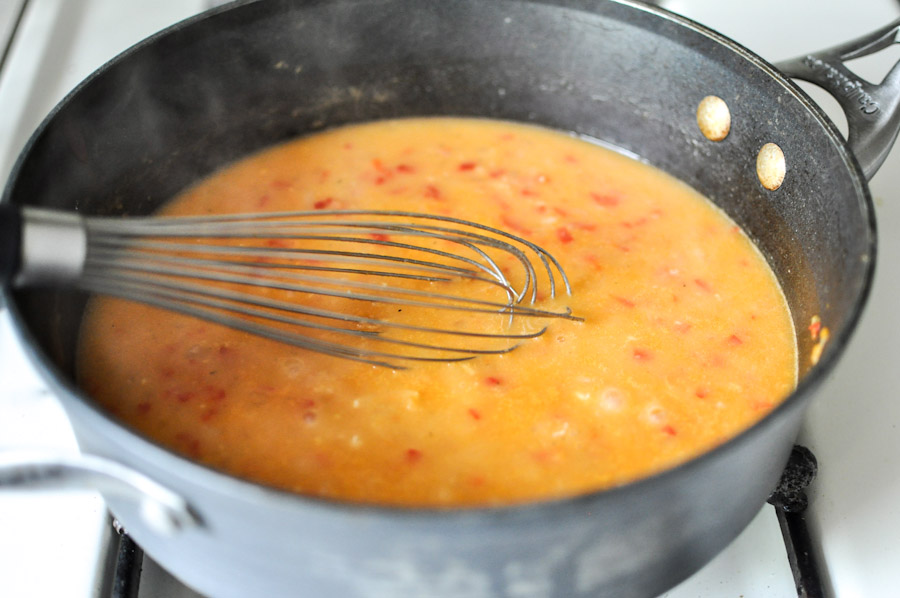 Cook for a few minutes until bubbly and thickened, and boom, you have your sauce! See how simple? Taste and season with salt and pepper if desired.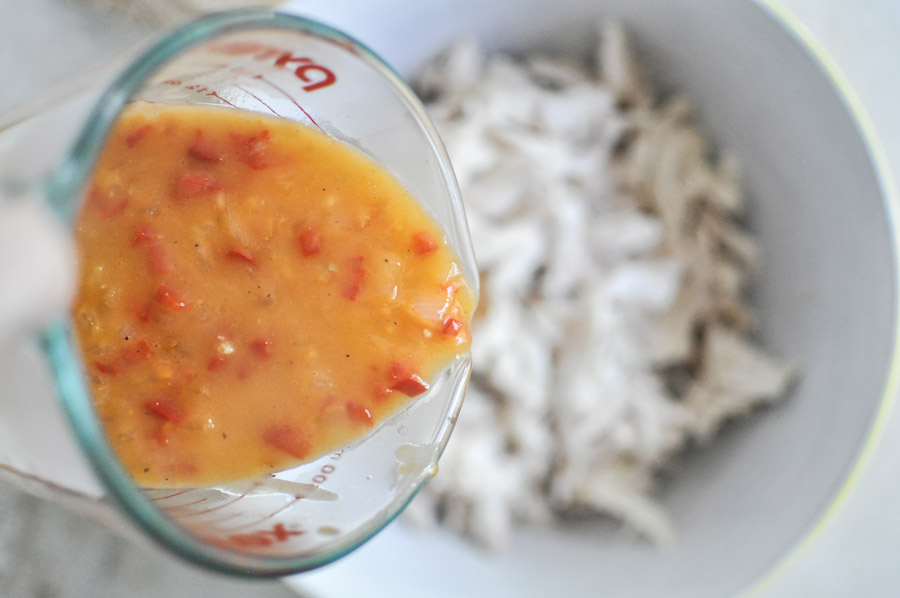 With your shredded chicken in a large bowl, add some of the sauce and mix it up.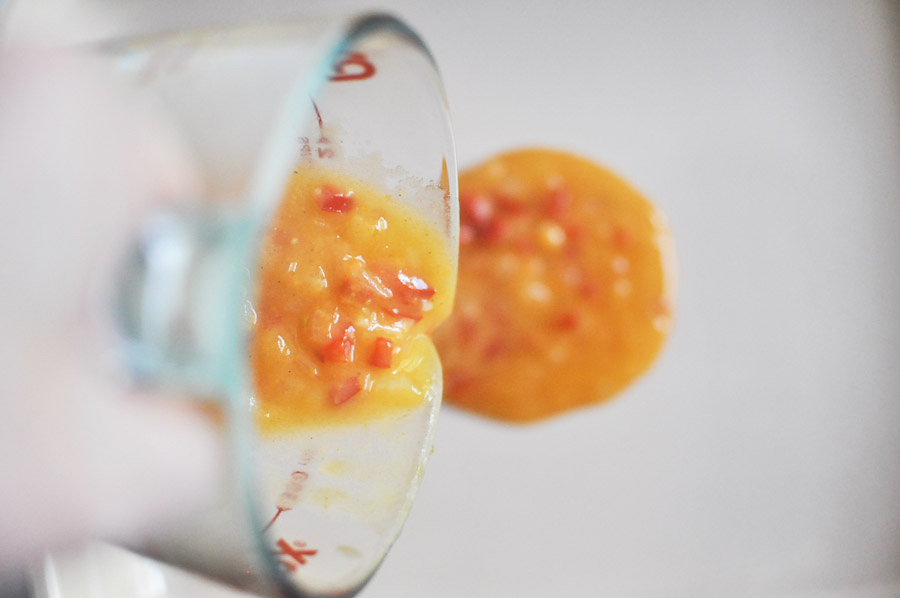 Add a bit more sauce to the bottom of a greased baking dish to make the first layer of deliciousness.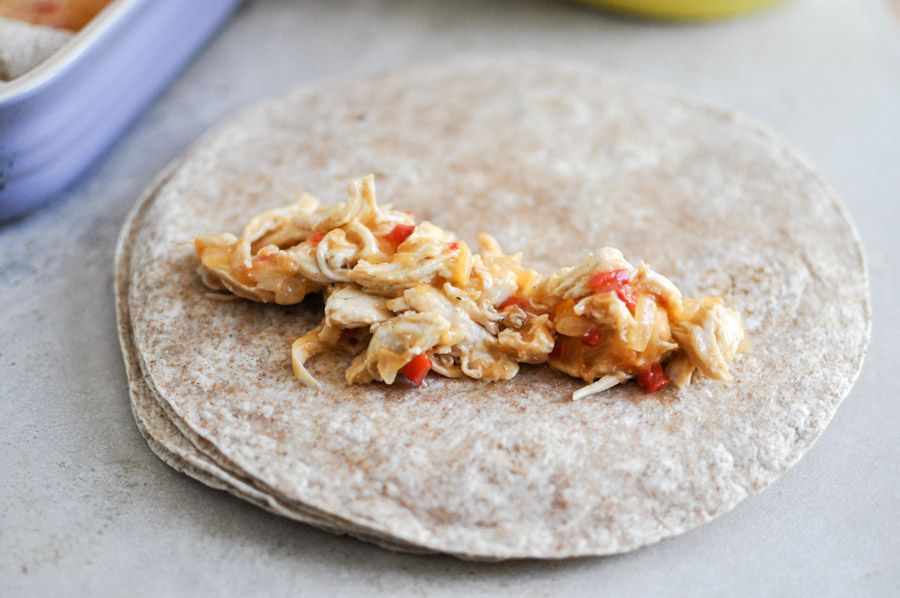 Then start filling your enchis. First up, add a few spoonfuls of the chicken mixture to the tortilla.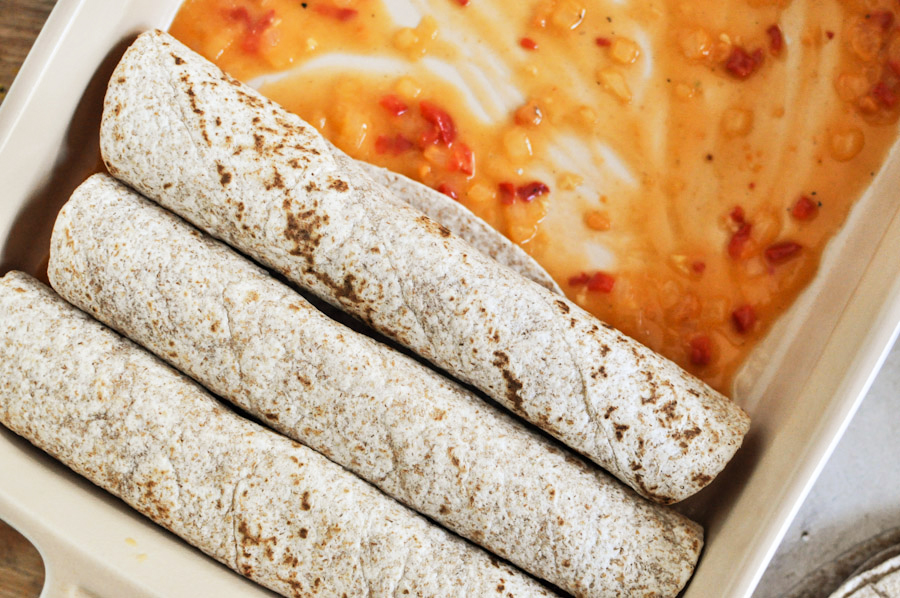 Roll it up tightly, placing it in the dish. Repeat with the rest until they are all crammed together and ready to go.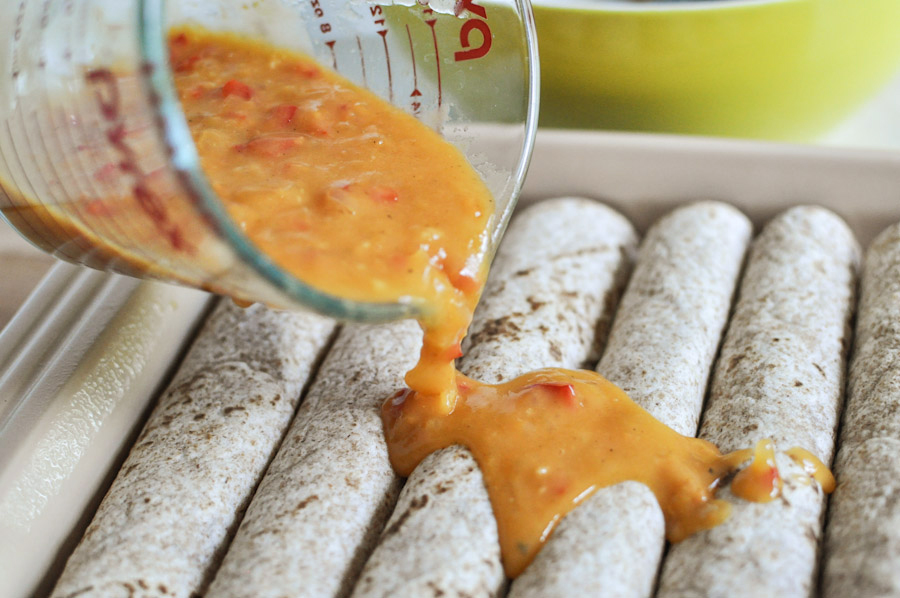 Add the rest of the sauce on top. I gently spread it with a spoon to cover every inch before baking.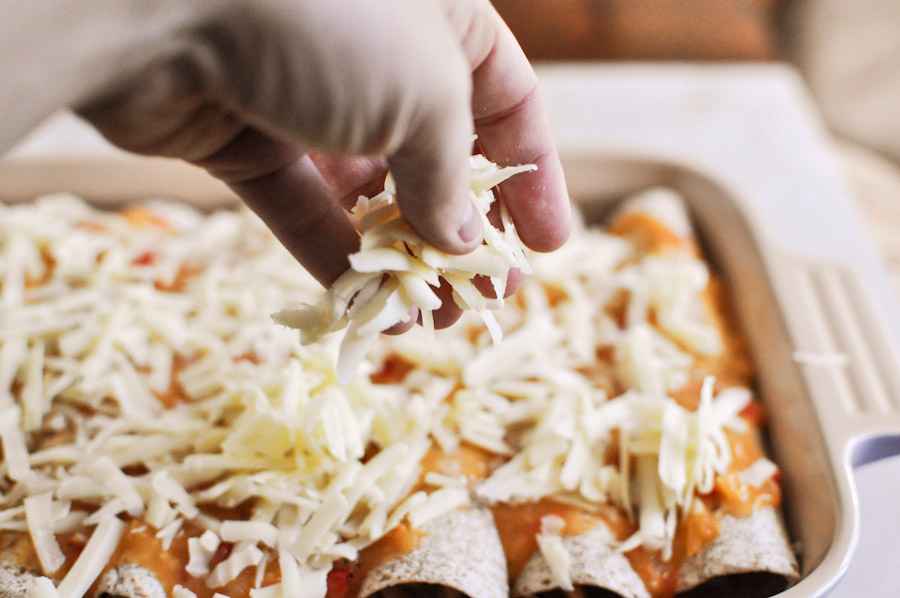 Then add some cheese—just a bit—to cover the dish. Bake for a few minutes just until the enchiladas are warmed through and the cheese is melty. Oh melty cheese.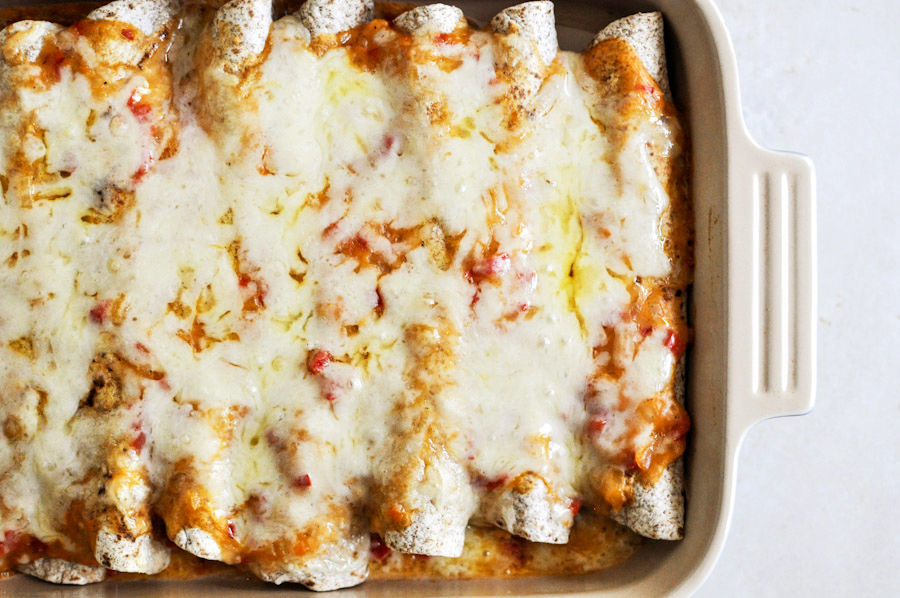 Admire your beautiful work!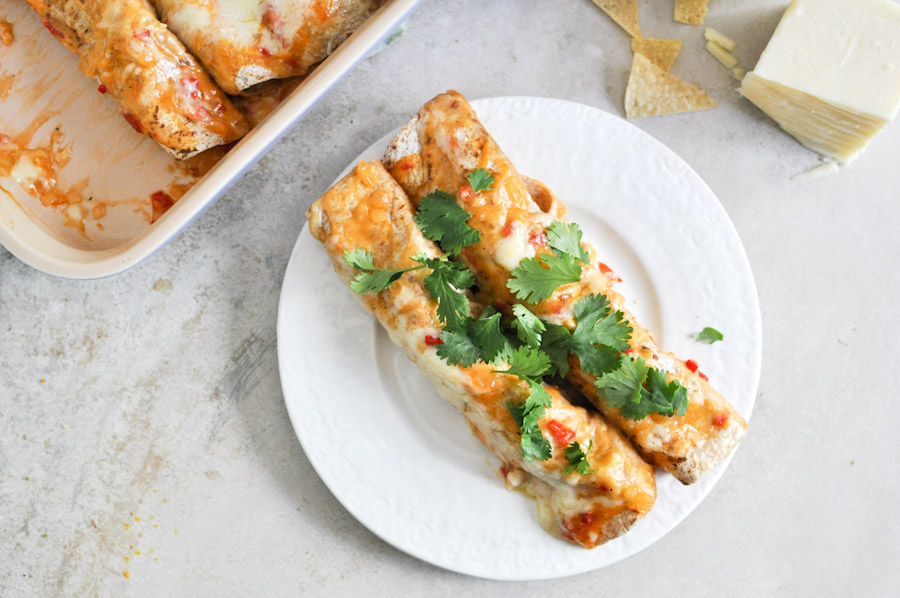 Serve your enchiladas and cover them with sour cream (or, as we like, plain Greek yogurt), guacamole, chives, salsa and chopped cilantro. Go to town with all of your favorite garnishes.
We absolutely adored these! Not only are they much lighter ingredients-wise than our typical enchiladas, they are lightly filling, too. They aren't heavy since you make your own sauce and keep the cheese to a minimum, but they still taste incredible and get the job done. Cravings cured!
Thanks so much to my fellow TK Blog contributor Laurie for the fabulous recipe. Check out her incredible blog, Simply Scratch, where she shares her delicious creations in the kitchen and beautiful step-by-step photography.
Printable Recipe
See post on Laurie - Simply Scratch's site!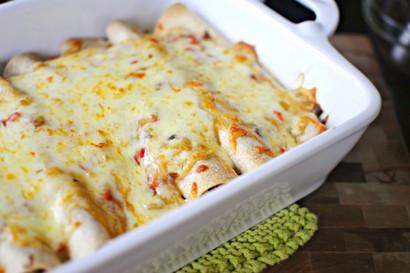 Description
Chicken enchiladas lightened up with grilled chicken, whole wheat tortillas and a broth-y chipotle sauce that is to die for!
Ingredients
2 Tablespoons Olive Oil
1 whole Small Onion, Diced Small
½ whole (red, Green Or Orange) Bell Pepper, Diced Small
2 cloves Fresh Garlic, Peeled And Minced
¼ cups All-purpose Flour
1 teaspoon Cumin
1 Tablespoon Minced Chipotle Peppers In Adobo Sauce
1-½ cup Low Sodium Chicken Broth
¼ cups Water
1 Tablespoon Adobo Sauce (optional)
¾ teaspoons Kosher Salt
⅛ teaspoons Black Pepper, More Or Less To Taste
2 whole Grilled Chicken Breasts, Shredded In A Large Bowl
8 whole Whole Wheat Tortillas
½ cups Grated Muenster Cheese
Your Favorite Enchilada Toppings, For Serving (Salsa, Sour Cream, Chopped Fresh Cilantro, Etc.)
Preparation Instructions
Lightly spray the bottom of a 13×9 baking dish and set aside. Preheat your oven to 400 F.
In a large skillet over medium heat add the two tablespoons of olive oil.
Add diced onion and peppers and cook, stirring occasionally, until the onions are translucent and the peppers are soft, about 5 minutes.
Add in the minced garlic and cook for one minute. Add in the flour, cumin and the tablespoon of diced chipotle peppers, stir.
Whisk in the broth and water. Add in the tablespoon of adobo sauce if desired and simmer over medium heat until the sauce has thickened. Season with 3/4 teaspoon kosher salt and 1/4 teaspoon black pepper, taste and adjust seasonings.
Put the shredded grilled chicken in a bowl. Add a cup of the "enchilada sauce" to the shredded chicken.
Measure and spread 1/4 of a cup of the sauce in the bottom of the prepared pan.
Wrap the 8 whole wheat tortillas in a damp paper towel and microwave for one minute.
Spoon a little of the chicken mixture down the center of each tortilla, then tuck and roll each tortilla and place it seam side down into the baking dish.
Pour and spread the remainder of the sauce over top of the enchiladas and top with the half cup of grated Muenster cheese.
Bake, uncovered, in your preheated 400 F oven for 15 minutes or until the cheese has melted and bubbly.
Serve two per person topped with a dollop of sour cream, your favorite hot sauce and torn cilantro. Other delicious toppings like sliced olives, salsa, green onions and pickled jalapenos would be fantastic too!
Enjoy!


_______________________________________
Jessica Merchant is a personal trainer turned food writer and blogger. Her blog, How Sweet Eats, is where she proclaims her love for all things sweet, all things bacon, and everything else in between. She works her magic in her Pittsburgh kitchen, which she shares with her husband of 2 years.