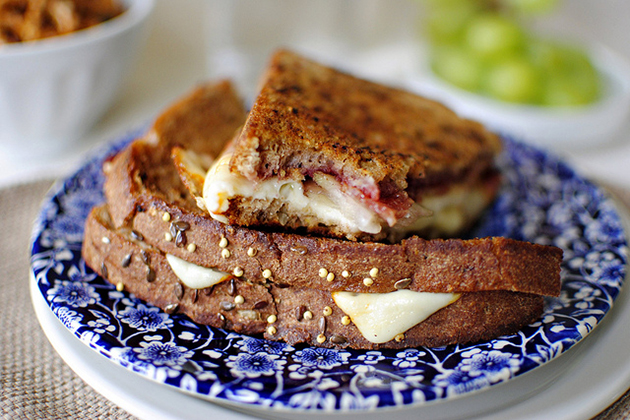 April is National Grilled Cheese Month!  So what better way to celebrate than with a newly discovered and loved grilled cheese sandwich? I've had my eye on Lindsay's recipe since I saw it first on her blog Pinch of Yum. I was intrigued by all the flavors and placed it in my TK recipe box for safekeeping. The first chance that I had, I whipped these up for my Mom for lunch. And after we finished our sandwiches I knew I had to spotlight this fantastic Bacon, Pear and Raspberry Grilled Cheese on the TK Blog.
 
I take the whole grilled-cheese-making process very seriously. So seriously in fact that I broke it all down and came up with a game plan on just how this sandwich should be built. Crazy? Maybe. For example, I placed the bacon by the raspberry preserves for the whole salty-meets-sweet thing, then the sliced pear on the bacon, leaving the cheese to melt all over the pear. But however you decide to stack it, all of you fellow grilled cheese lovers should  make this ASAP (it is a holiday after all)!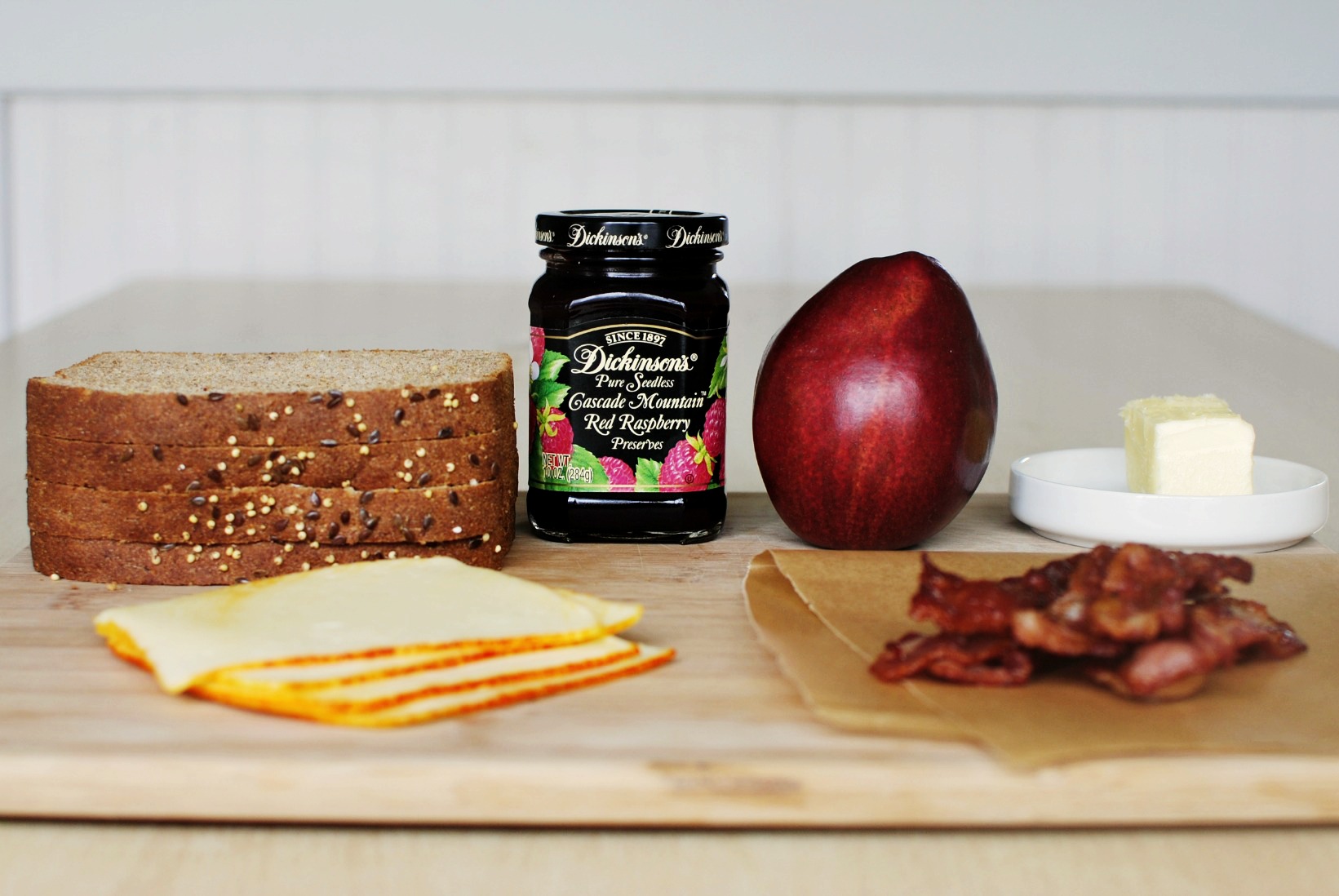 To make these sandwiches you'll need 4 slices of sturdy whole wheat bread. Because of the weight from all these toppings you definitely want bread that can stand up to the challenge. Not only does the earthiness of the whole wheat bread round out this sammie, but it's good for you too!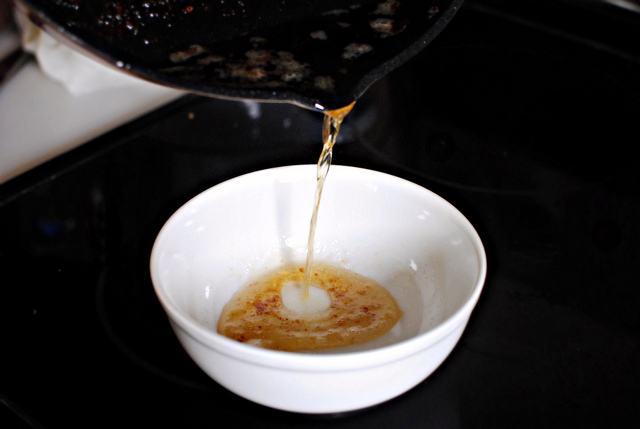 I'm using the same skillet I used to fry up the bacon so I drained off all of the bacon fat.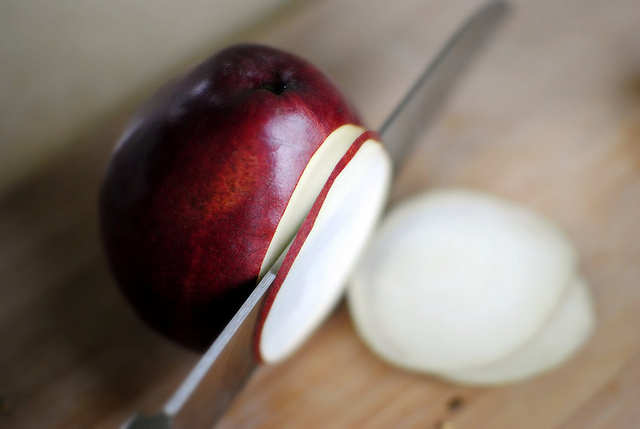 Then with a sharp knife, thinly slice the pear.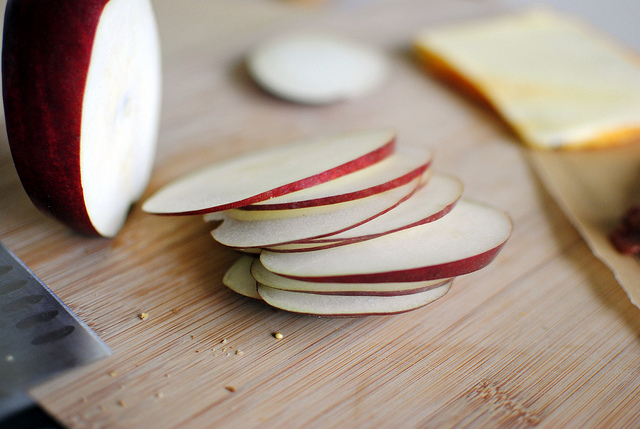 You'll need about 3 to 4 slices per sandwich so one pear should do the trick for two.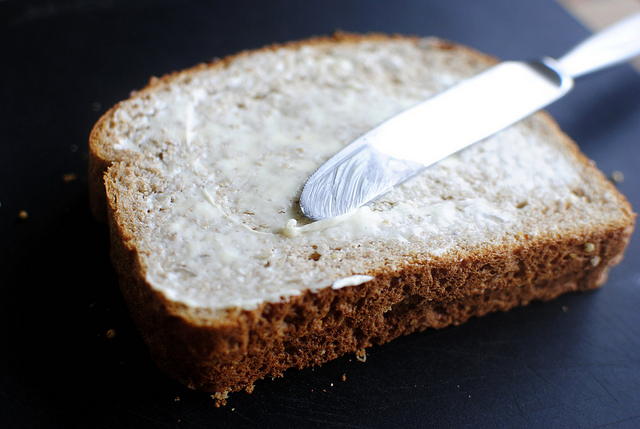 Now let's assemble the sandwiches. Start by spreading a thin layer of butter on one side of each piece of bread. I've found that the thinner the layer of butter, the crispier the grilled cheese!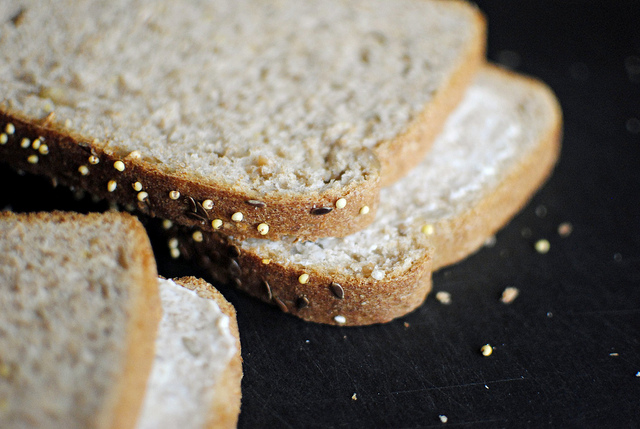 I place the buttered sides together and start piling on the toppings.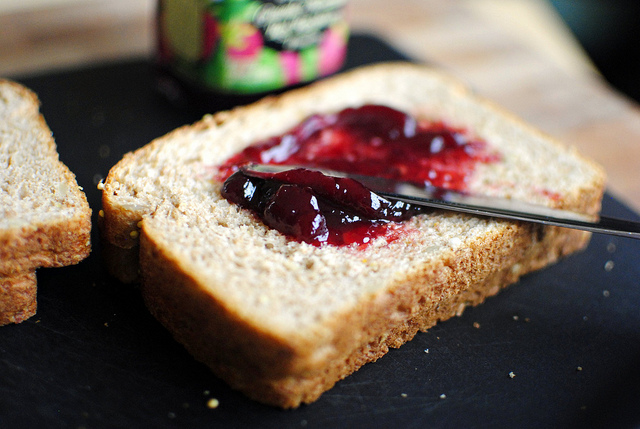 First, the raspberry preserves, the seedless kind.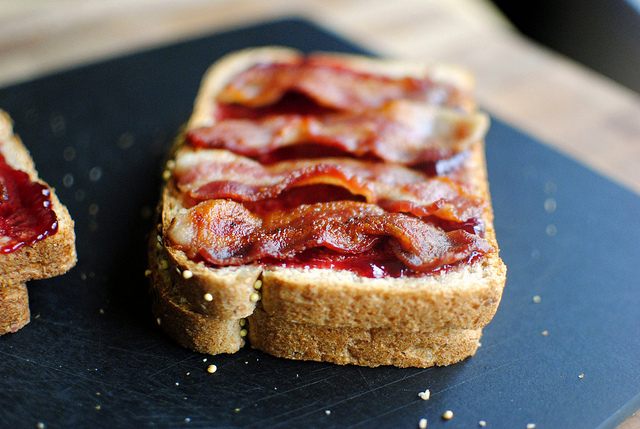 On top of the preserves lay down four half-strips of bacon or more if that's how you like to roll.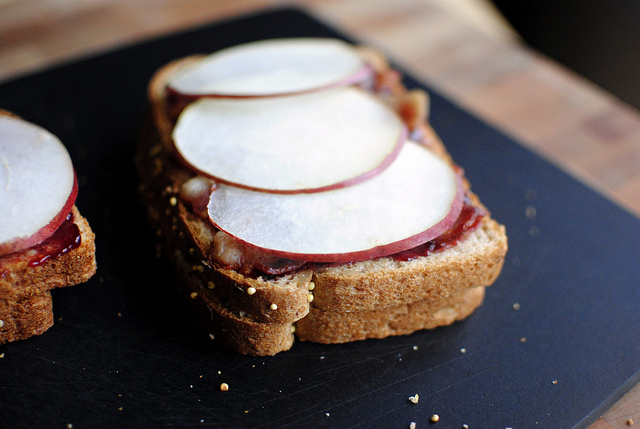 Top with the thinly sliced pear.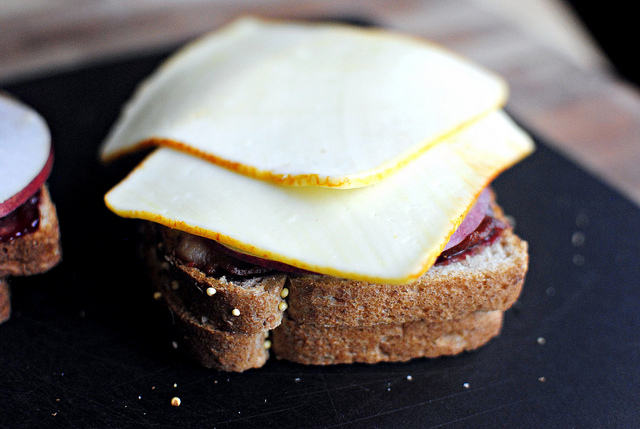 And of course two slices of Munster cheese (because you deserve it).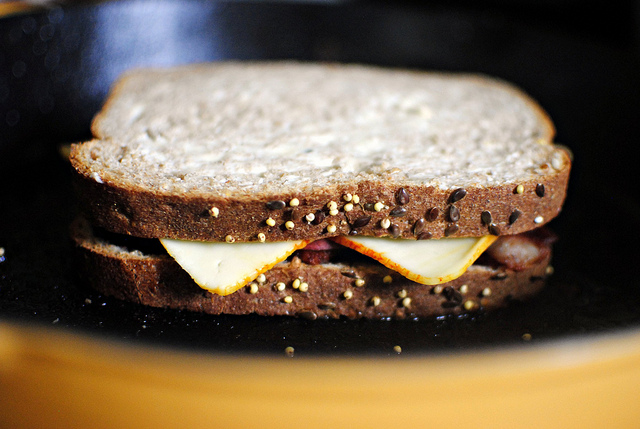 Place the stacked sandwich, butter-side down, in your skillet preheated on medium and top with the second slice of bread, butter-side up (naturally). Grill the sandwich until it reaches the golden-ness you prefer. I like mine a little on the darker side.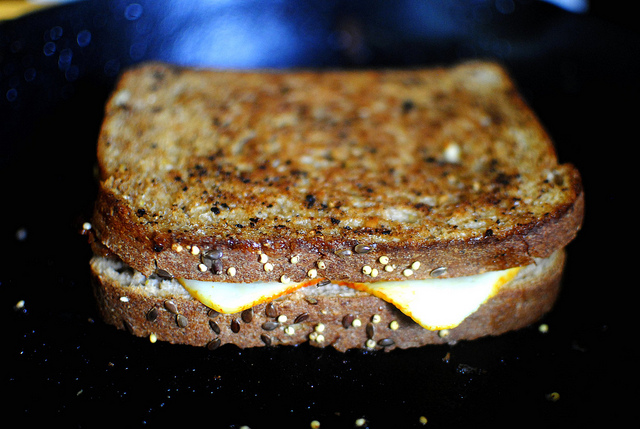 Flip and repeat.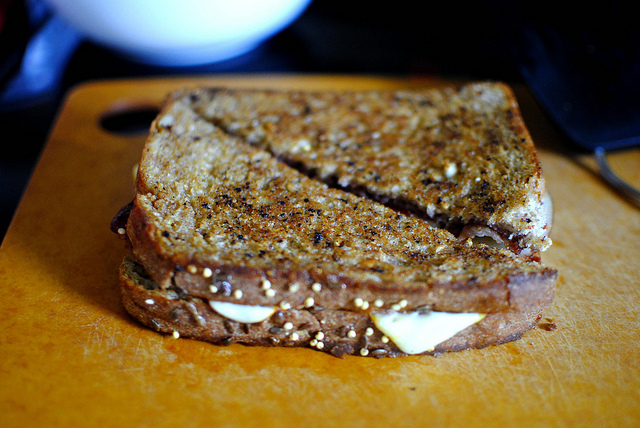 Cut the grilled cheese in half and serve.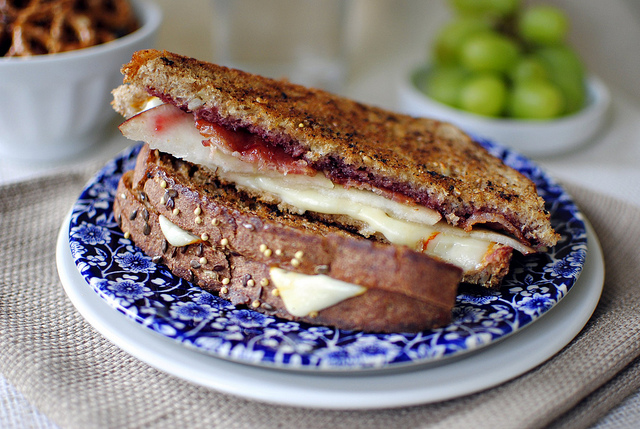 This is one gourmet grilled cheese, one that I'd gladly pay a pretty price for in any cafe. The flavors meld perfectly, and I love the subtlety of the raspberry jam.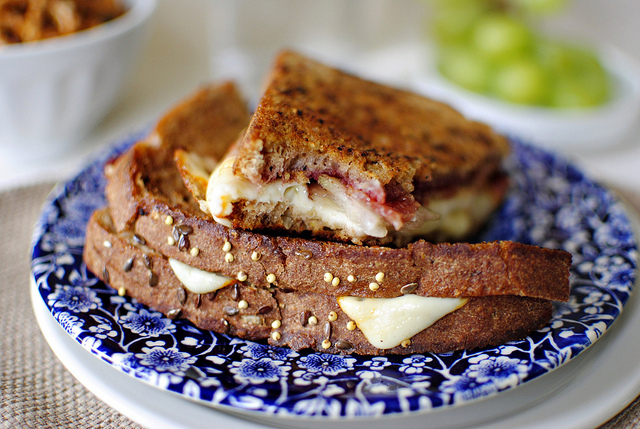 This is a grilled cheese that will definitely grace my kitchen table time and time again, and I have a feeling you're going to love it as well. Thank you Lindsay for dreaming up this sandwich and sharing it with us! 
 
Be sure to head over to Lindsay's blog for gorgeous photos, good laughs and a generous "Pinch of Yum." You can of course find many of her delicious recipes here on Tasty Kitchen as well, in her recipe box!
Printable Recipe
See post on Lindsay's site!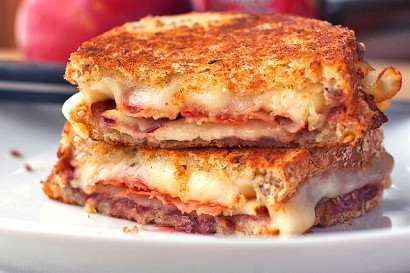 Description
Sweet, salty, and very, very cheesy.
Ingredients
4 slices Sturdy, Grainy Wheat Bread
3 Tablespoons Raspberry Preserves
8 slices Red Pear, Thinly Sliced
8 slices Cooked Bacon
4 slices Muenster Cheese
1 Tablespoon Butter
Preparation Instructions
Preheat griddle or panini press to medium-high heat.
Assemble 2 sandwiches in this order: bread, 1 1/2 tablespoons preserves, 4 slices pear, 4 slices bacon, 2 slices cheese, bread.
Spread butter on the top and bottom of the sandwich and grill for 4-8 minutes, or until cheese is melted and top is golden brown.
Note: my slices of bacon were pretty small and thin, which is why I used 4 on each sandwich (gulp). I think 2 regular slices per sandwich would be plenty.


_______________________________________
Laurie is the force behind Simply Scratch, a blog that documents her efforts to find and create recipes that are made simply from scratch. (We think it's sweet that her mother-in-law helped her set up her blog and get started.) We love her recipes; they're not just tried and true, but they look gorgeous as well. Check out her blog and you'll become a fan too.