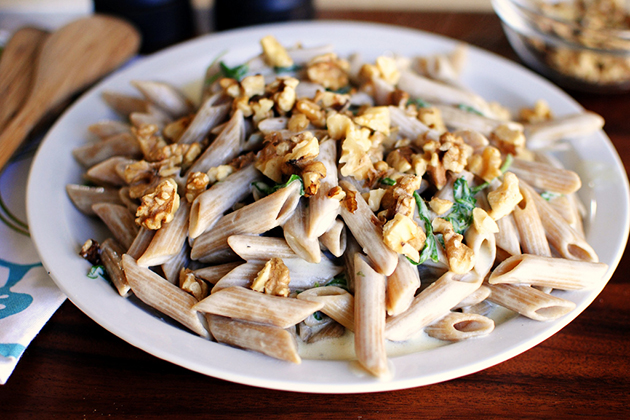 I was on the hunt for a recipe. I was having a good friend over for lunch and it had to be a recipe that didn't take long to whip up. Bev Weidner's (Tasty Kitchen member Bev Cooks) recipe for Creamy Penne with Blue Cheese, Arugula and Toasted Walnuts just about stopped me in my tracks. Actually that's exactly what it did. While perusing through the many wonderful Tasty Kitchen recipes looking for a dish that had pizzazz and that I could make super fast, my eyes instantly locked on Bev's recipe. With ingredients like penne, blue cheese and toasted walnuts in the title, how could I go wrong?
 
I was happy to see I had pretty much all the ingredients already in my pantry and fridge. After a quick trip to the grocery store for fresh arugula, I was off to submerge myself in some blue cheese laden pasta!
 
If you're a huge blue cheese fan (like me), you'll just love Bev's recipe!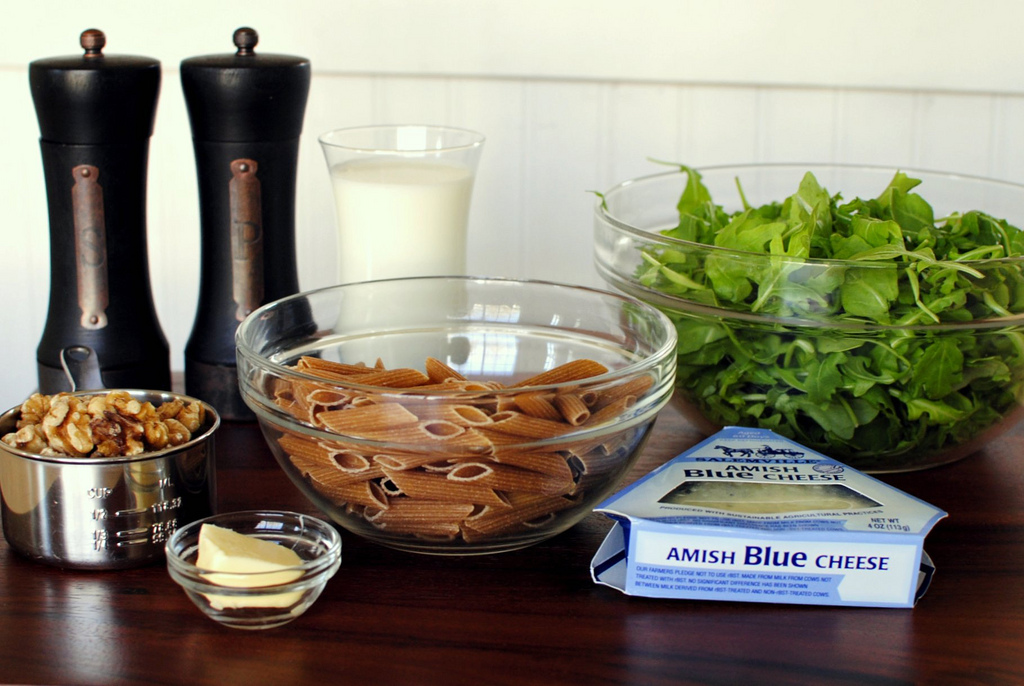 I had no idea you could make a pasta sauce out of blue cheese but after making Bev's recipe, I'm now a believer and an obsessed fan. I about fell over with how easy this was to whip up. There is minimal prep work so that meant I had it on our plates with a glorious forkful in our mouths in 20 minutes flat.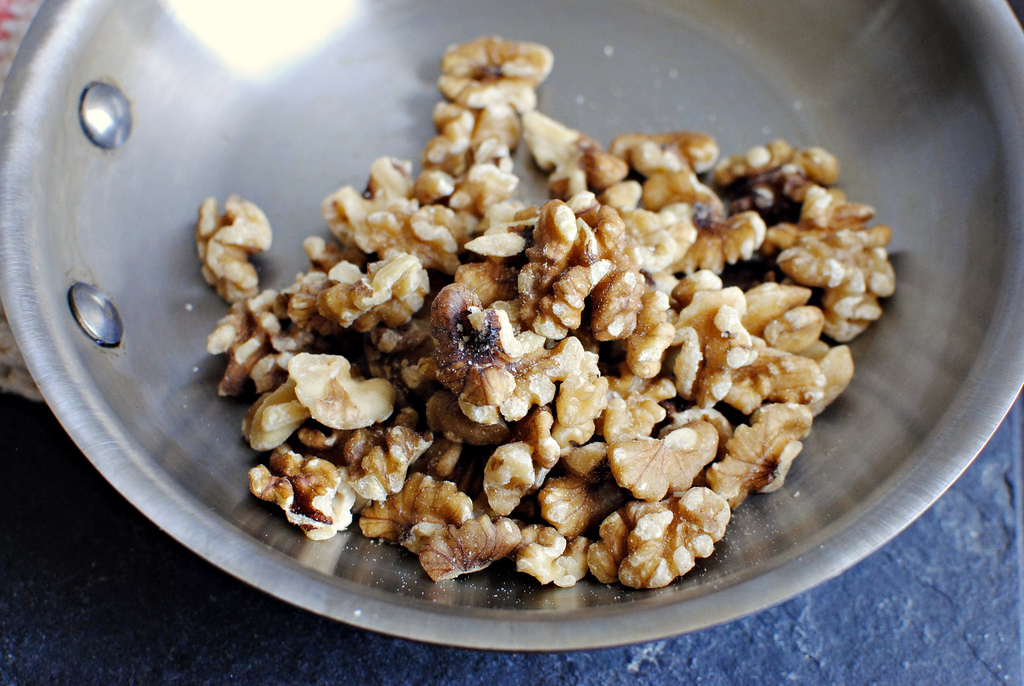 In a small dry pan over medium heat, slowly toast the walnuts until fragrant.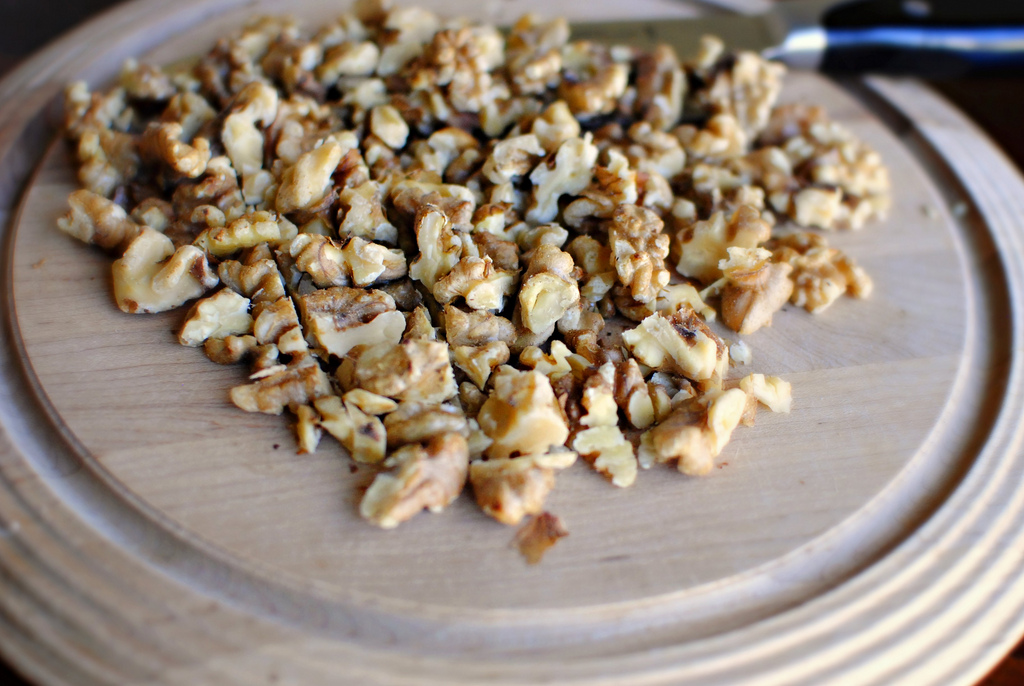 Remove, coarsely chop and set aside.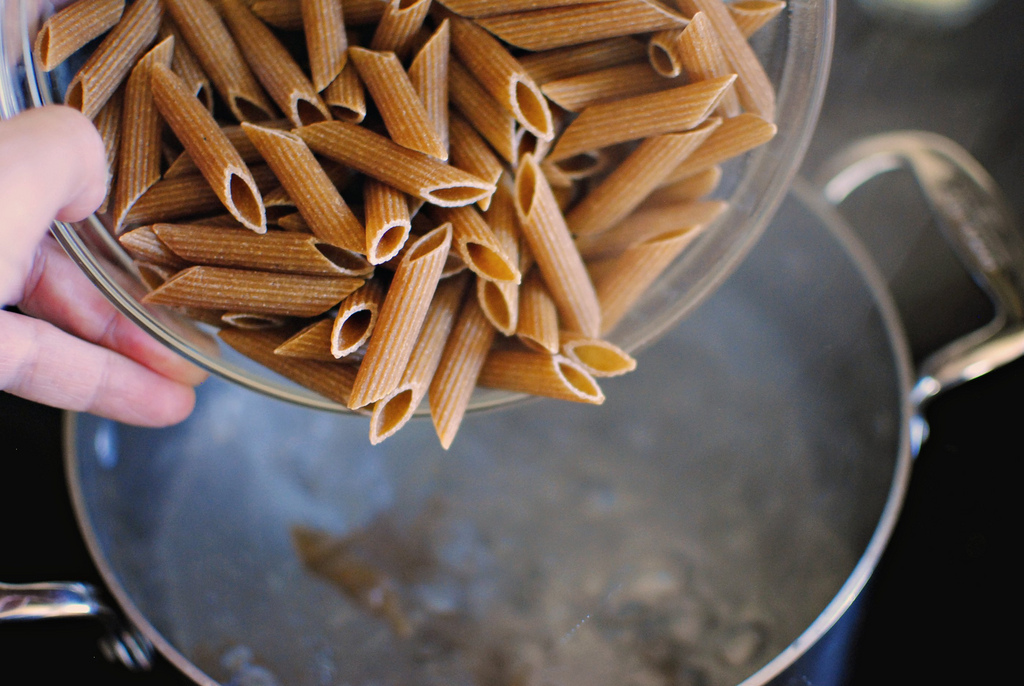 Into a large pot of boiling water, add about a half pound of penne. Cook as the directed on the package. While the pasta cooks, go ahead and get going on the sauce.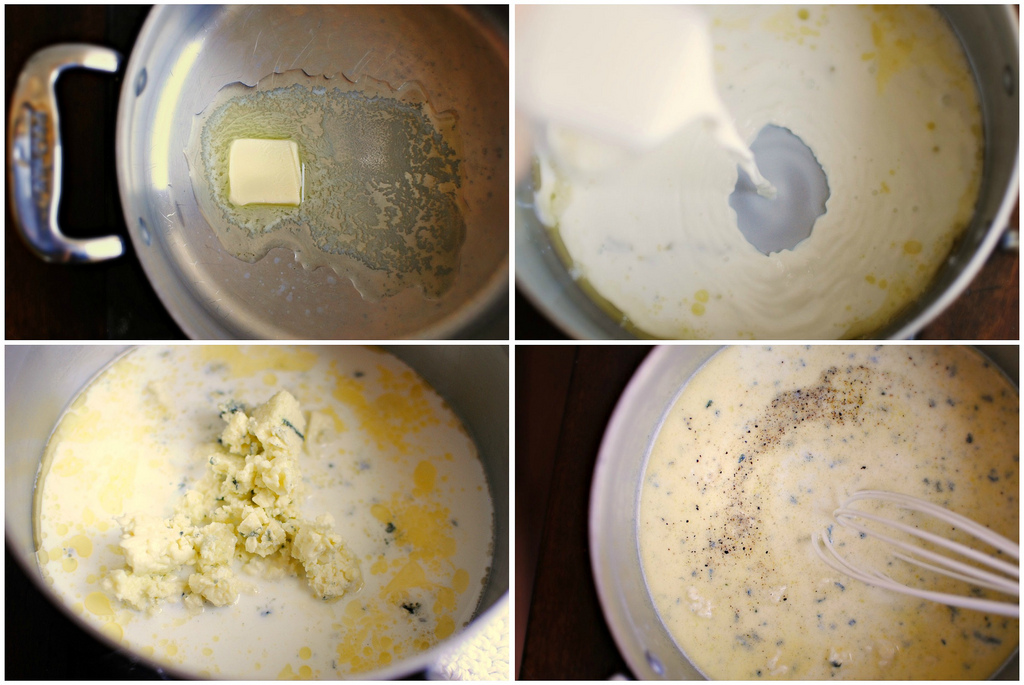 Melt the butter into a small sauce pan. Add in the milk, blue cheese and season with salt and black pepper. Whisk until all the ingredients come together and start to bubble.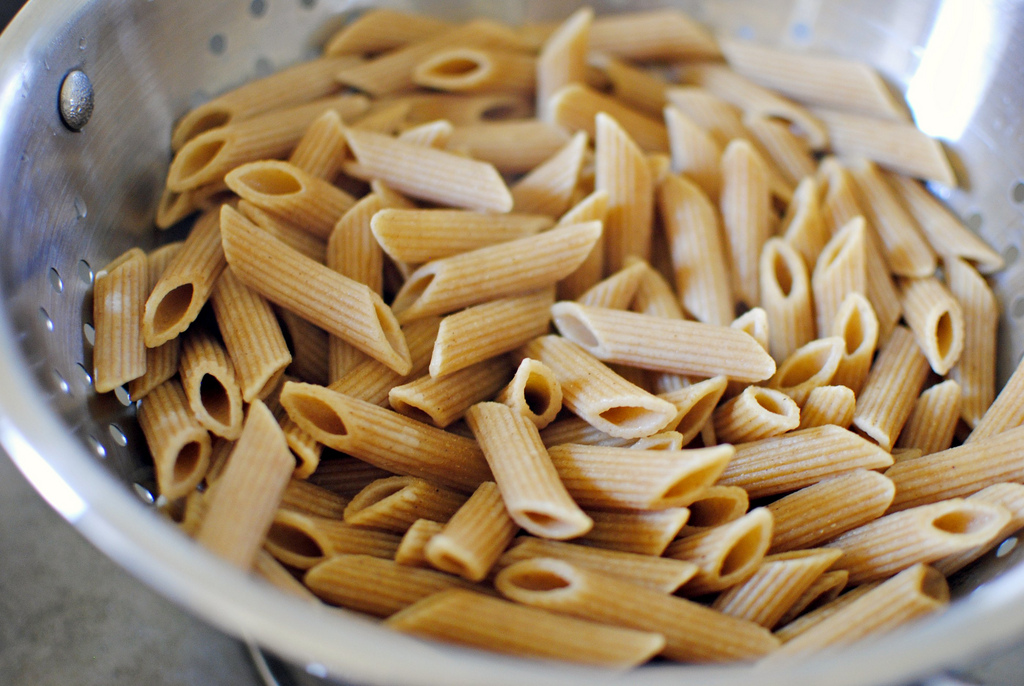 Drain the pasta. Before draining you could reserve a little of the pasta water, just in case you need to thin the sauce out a tad in the end.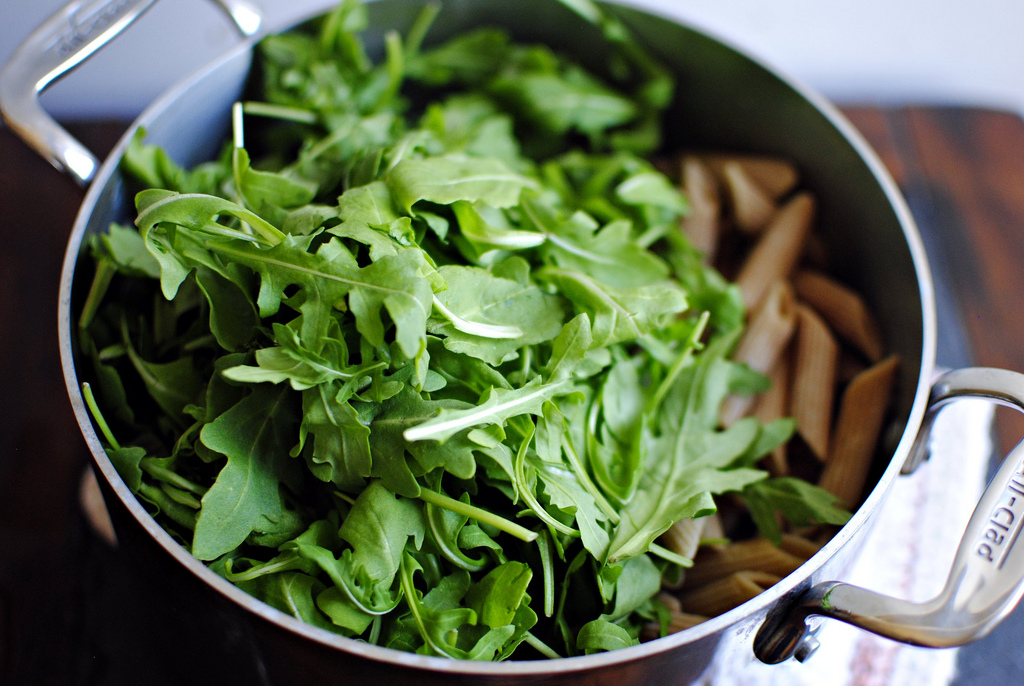 Add the pasta into the pot that has the blue cheese sauce, and add in the arugula.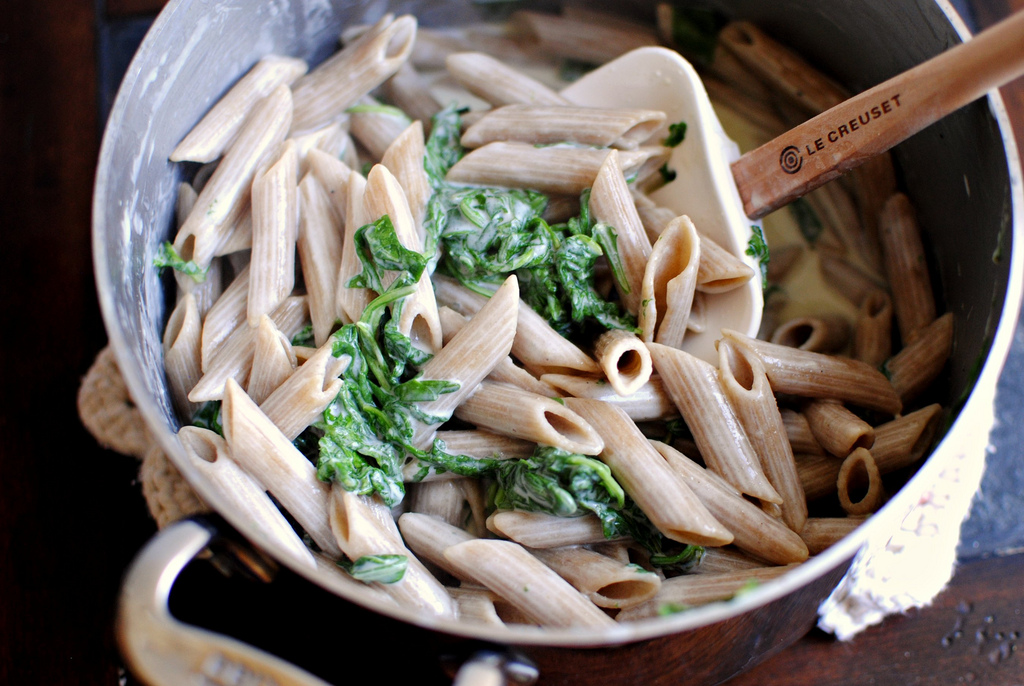 The arugula will begin to wilt as you gently toss it around to coat every inch of the penne pasta. Here is where you could add a little of the reserved pasta water to thin it out a tad. I didn't find that I needed to. It was absolutely perfect!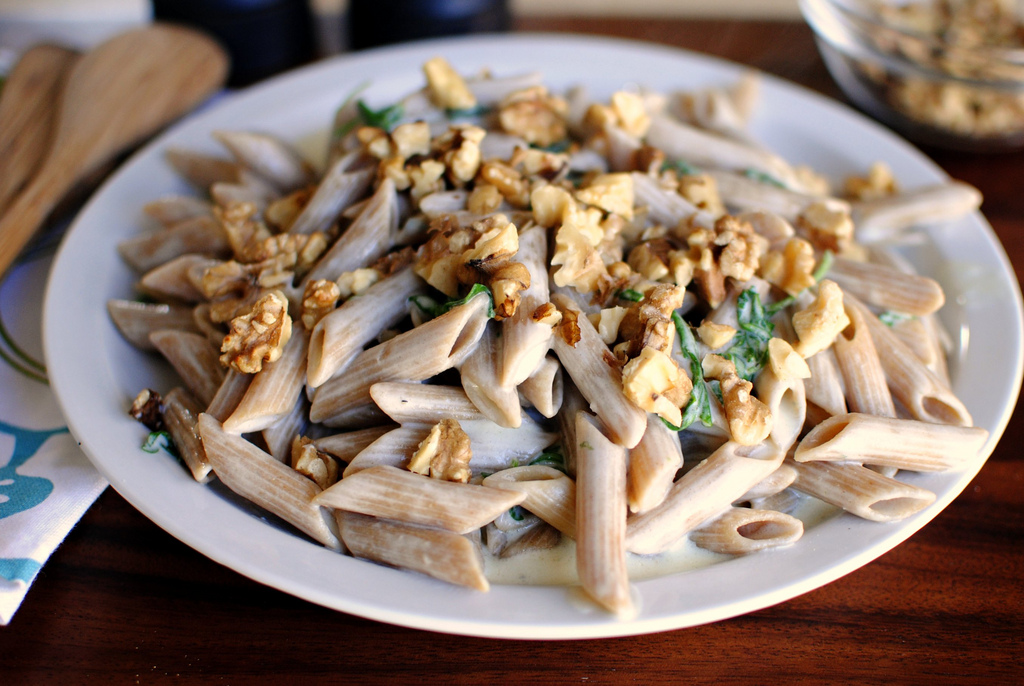 Remove to a large platter and sprinkle with the toasted walnuts.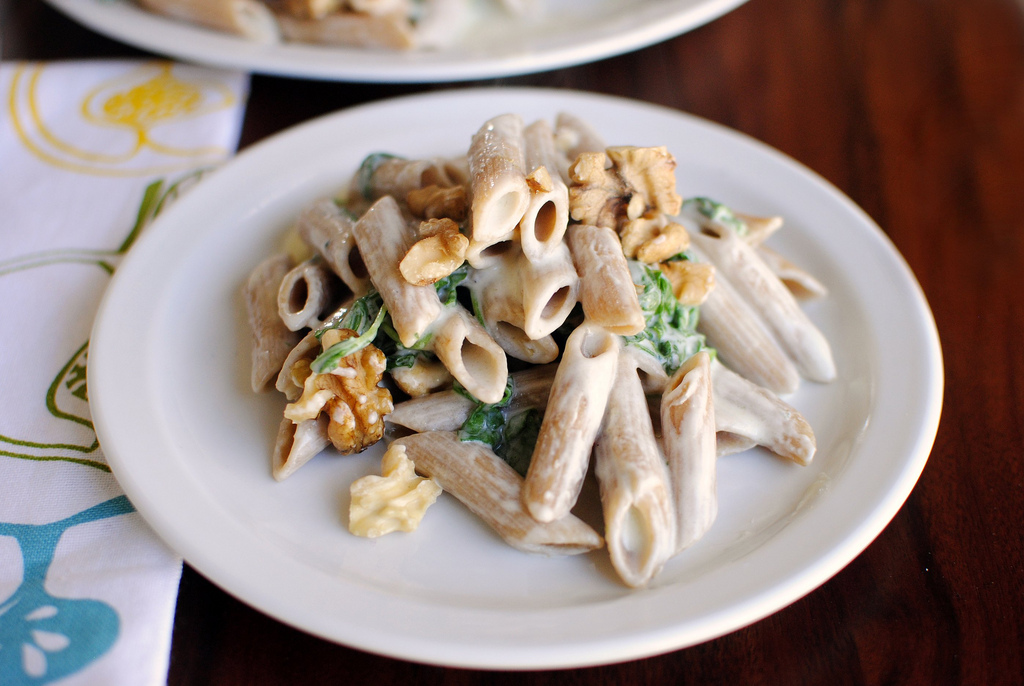 The sauce wasn't too heavy, and I especially enjoyed the flavors of the peppery arugula mixed with the creamy pungent blue cheese. I served our plates with a large spoonful of pasta, and then added just an extra little sprinkle of salt and a healthy pinch of black pepper.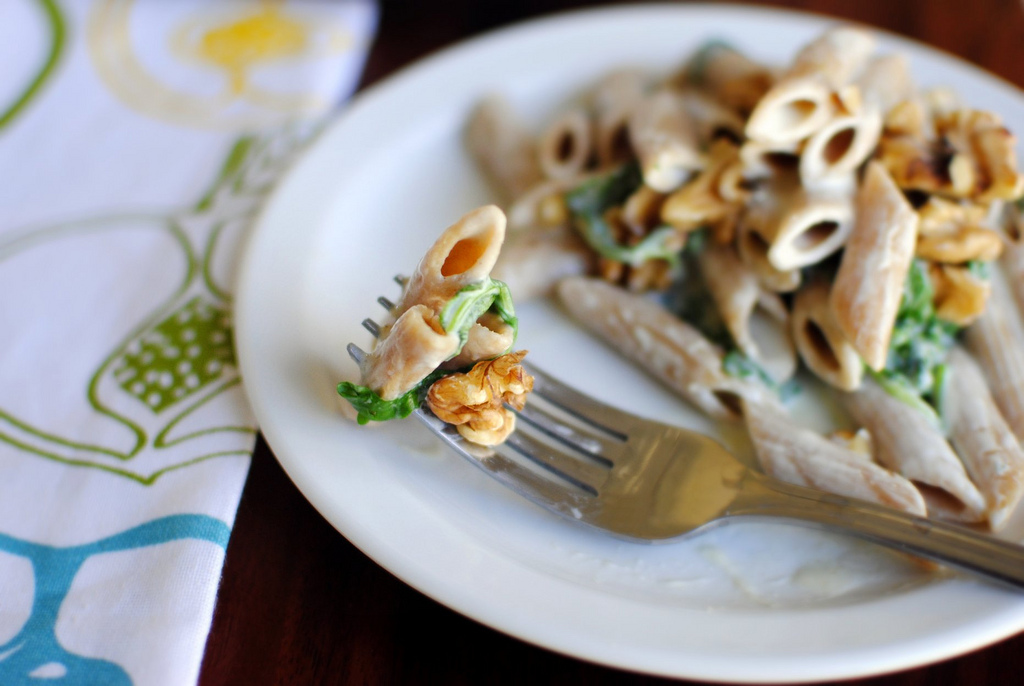 You could also serve this pasta with a large slice of buttery toasted baguette, a side salad and you'll have yourself an easy and elegant meal! Oh, and if—and I mean if—there are any leftovers, they'll reheat nicely the next day.  
 
A big thank you to Bev for posting this pasta recipe. Believe me when I tell you it was inhaled and enjoyed thoroughly! Be sure to stop by her blog Bev Cooks for beautiful food, laughs and pure shenanigans. You can also visit her Tasty Kitchen recipe box for more mouthwatering recipes. 
 
Note: The only change I made was that I used whole milk instead of reduced fat. The sauce is a little thin, but can easily be thickened with corn starch if desired.
Printable Recipe
See post on Bev Weidner's site!
Description
What do you get when you fall in luuuve?
Ingredients
½ cups Walnuts
½ pounds Penne Pasta
1 Tablespoon Butter
1 cup Reduced-fat Milk
½ cups Crumbled Blue Cheese
1 pinch Coarse Salt And Freshly Ground Pepper
4 cups Arugula
Preparation Instructions
Start by toasting your walnuts. Pour them into a small skillet and toast over medium heat for about 5 minutes, until they start to brown and you can smell 'em. Remove them from the heat and coarsely chop. Set aside.
Cook the pasta until it reaches al dente (use package instructions for al dente). Reserve 1/4th of the pasta water and drain the rest. Set pasta and reserved water aside.
Back in the pot, reduce the heat to medium and add the butter, milk and blue cheese. Whisk together until combined and smooth. Throw in a pinch of salt and pepper.
Add the cooked pasta and the arugula into the sauce, wilting the greens and gently stirring to cover everything with the sauce. If you need to thin out the sauce a little, you can add the reserved pasta water here.
Serve with toasted walnuts and oh my dear, eat eat eat.


_______________________________________
Laurie is the force behind Simply Scratch, a blog that documents her efforts to find and create recipes that are made simply from scratch. (We think it's sweet that her mother-in-law helped her set up her blog and get started.) We love her recipes; they're not just tried and true, but they look gorgeous as well. Check out her blog and you'll become a fan too.