These Mexican Hot Chocolate Roasted Pecans may quite possibly be the most addictive food I've cooked up in my kitchen in quite a while. It immediately caught my eye when I saw it here by Savvy Julie because I think it would make a great homemade holiday gift. That is, if you can manage not to eat them all yourself first. They are that addictive.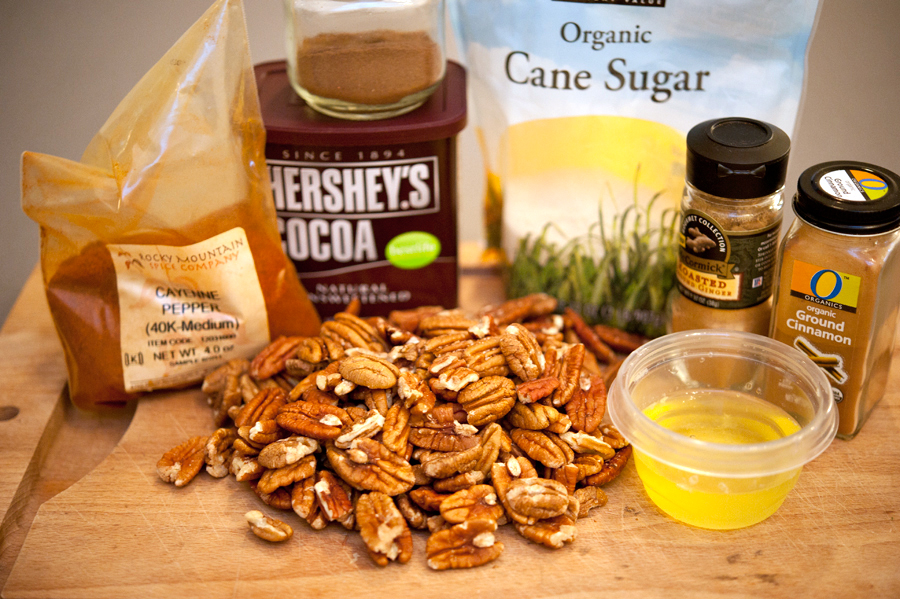 You'll need: whole raw pecans, cayenne pepper, unsweetened cocoa powder, ground allspice, sugar, ground ginger, ground cinnamon, and egg whites.
You start by whipping the egg whites in a bowl.
You'll keep whisking them until they form soft peaks.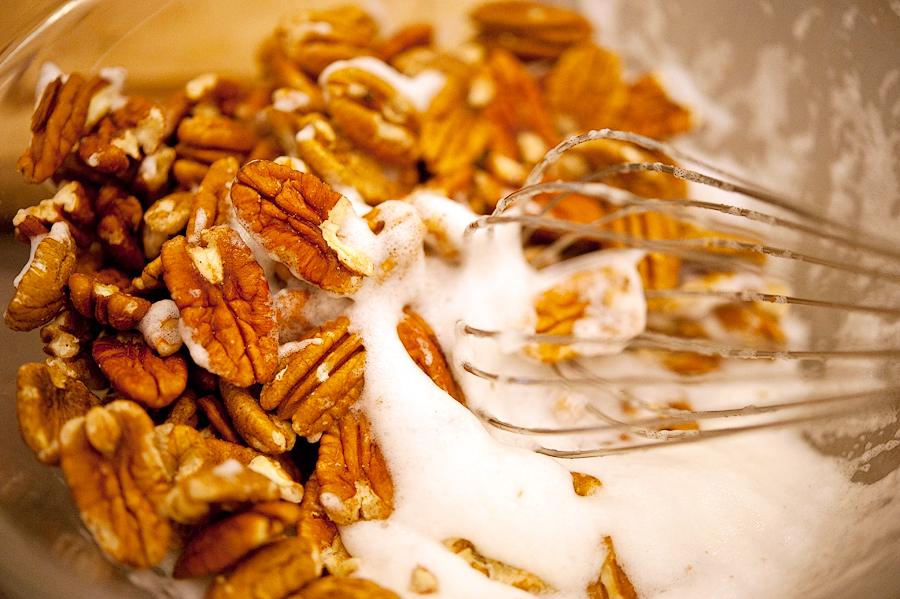 Then add the pecans and coat them evenly.
In another bowl, combine the sugar and cocoa powder…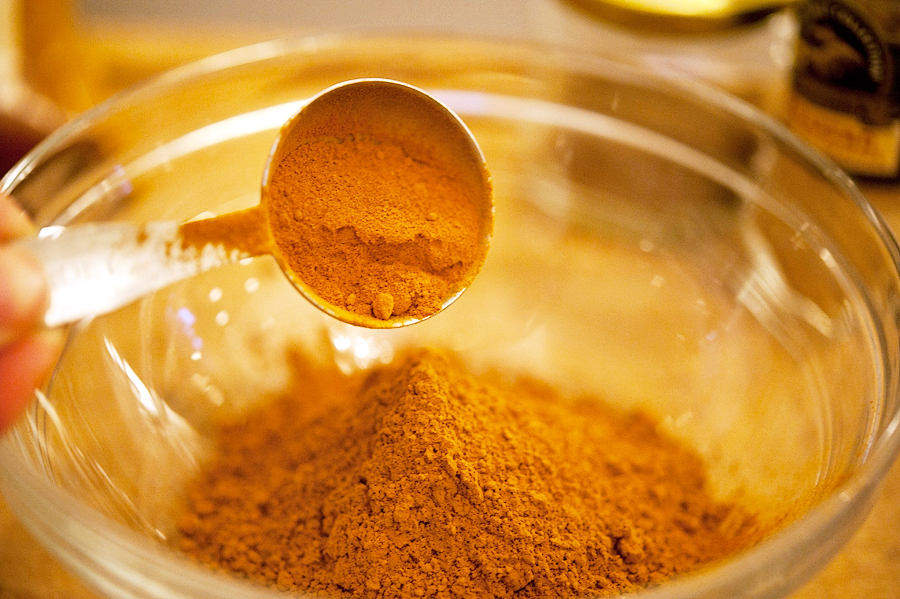 Along with the cinnamon…
Ground ginger…
Cayenne…
And allspice.
Give it a stir and add that mixture to the bowl of pecans and toss them until they are well coated.
Spread the pecans onto a greased baking sheet.
Spread them as evenly as possible so they don't stick together and bake them at 250ºF for one hour, stirring every 15 to 20 minutes, until the pecans are dry.
You'll notice that there are some missing from this tray—maybe half. They just disappeared somehow between the oven and the table. It's that spicy sweet savory combination, I tell you! So addictive.
I served what was left at my holiday party and they were gone in a flash. Thanks so much to Savvy Julie for this amazing recipe! Visit her blog Savvy Eats for more of her great recipes.
Printable Recipe
See post on Savvy Julie's site!
Description
These pecans make for a stellar appetizer or snack. Pack them into a glass jar and tie up with a ribbon for a beautiful gift for friends and party hosts. If you'd like, you can use a combination of pecans and almonds here, or replace all of the pecans with 4 cups of almonds.
Ingredients
1 Egg White
3-½ cups Unsalted Raw Pecans
⅔ cups Granulated Sugar
¼ cups Unsweetened Cocoa Powder
1-½ teaspoon Ground Cinnamon
½ teaspoons Ground Ginger
1 pinch Cayenne Pepper
1 pinch Ground Allspice
Preparation Instructions
Preheat the oven to 250F and grease a large rimmed baking sheet.
In a medium-sized mixing bowl, beat the egg white until it is white and frothy with soft peaks. Fold in the pecans, stirring until they are all coated with the egg white.
In a small bowl, whisk together the sugar, cocoa powder and spices. Add the sugar to the pecans and stir until all of the sugar is sticking to the nuts.
Spread the pecans onto the baking sheet. Bake at 250F for one hour, stirring every 15 to 20 minutes, until the pecans are dry and the sugar doesn't come off on your fingers when you touch them.


_______________________________________
There's so much to say about Georgia, we don't know where to start. Leaving Wall Street for the French Culinary Institute, followed by a stint at the Gramercy Tavern and La Chassagnette in France, her passion for food and food traditions are evident and inspiring. Visit her site at Georgia Pellegrini, where you'll find more recipes, photos, learn all about her wonderful books Girl Hunter and Food Heroes, and enjoy her latest adventures.