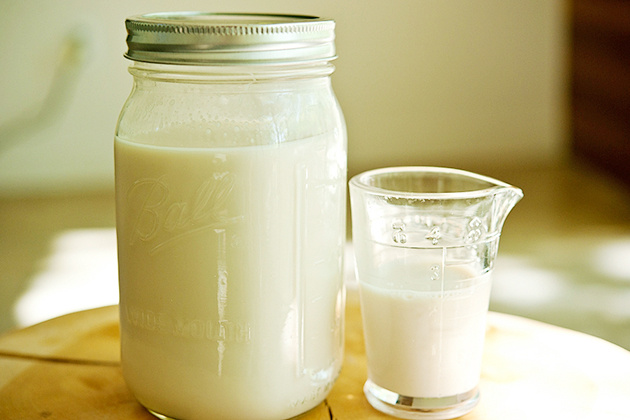 One thing that is pretty much always in my refrigerator is almond milk. I love the nuttiness of the plain and vanilla flavors. And the chocolate almond milk? There's just nothing like it in a tall glass of iced coffee.
And even though I love making many things from scratch, it just never occurred to me to make homemade almond milk until I saw Jennifer's recipe here on Tasty Kitchen!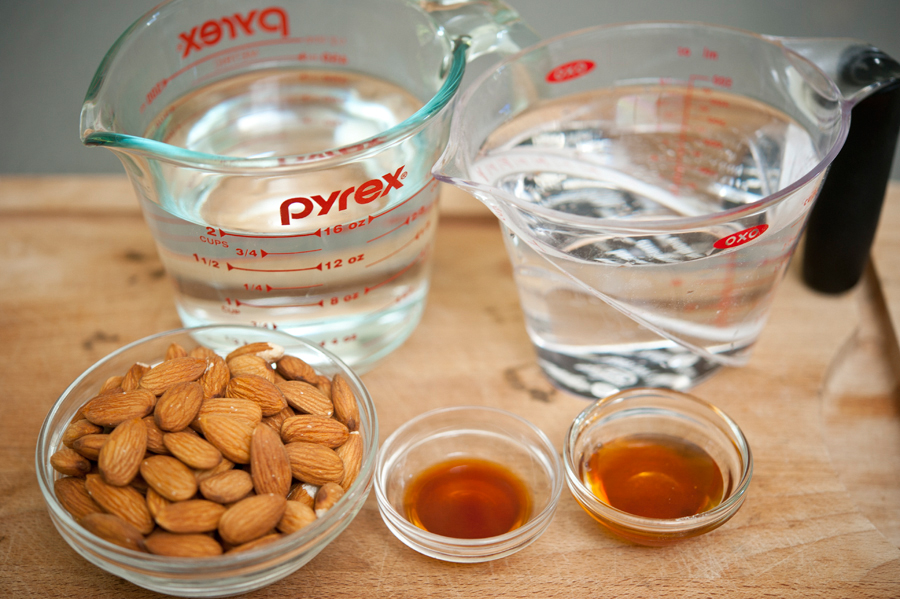 It also never occurred to me how simple it is to make it. Literally all you need is almonds and filtered water, along with any flavorings you'd like. In this case, I tried vanilla and a bit of honey.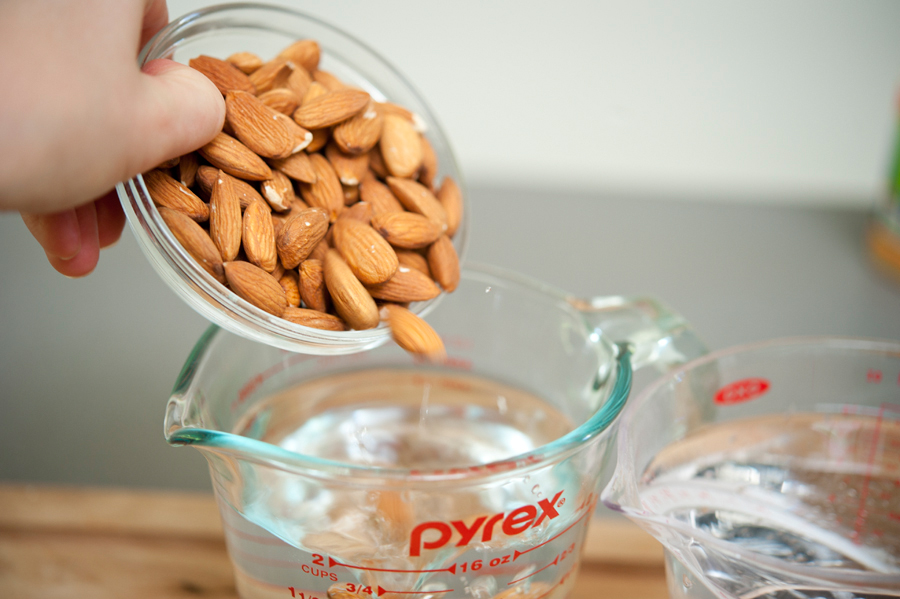 The main thing is to soak the almonds in water for up to 6 hours, which will soften them and make it easier to extract the flavor from them once they are blended.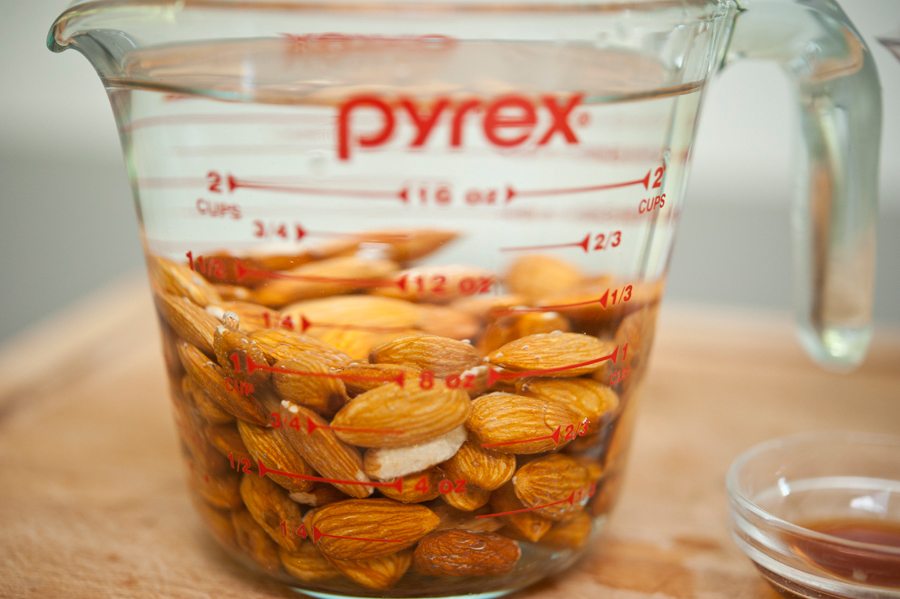 But since I'm not a very good planner, I only soaked them for an hour and the recipe still worked very well.
One other option is to use blanched almonds without skins for a very pure color. But hey, I don't mind beige almond milk myself.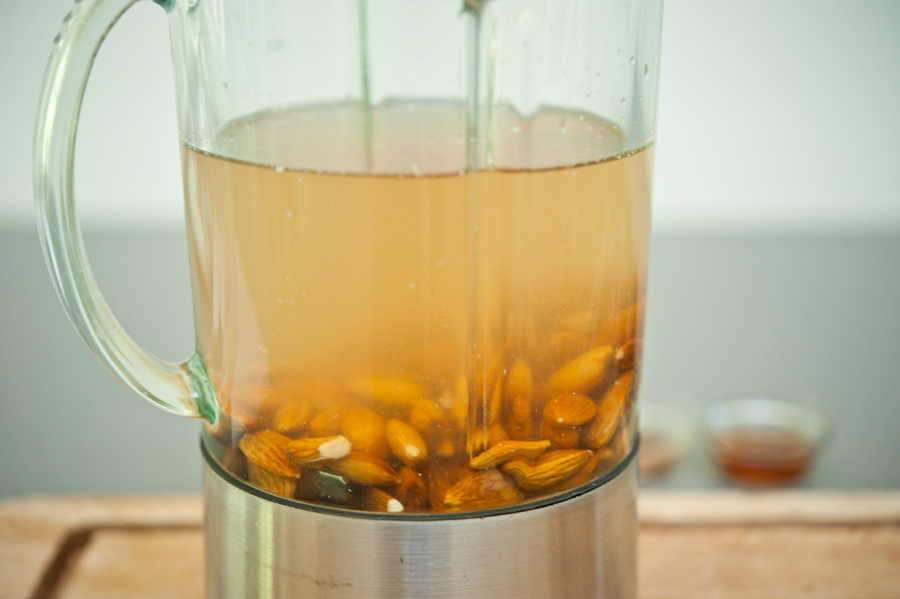 Once your almonds have soaked, combine them along with filtered water in a blender and give them a whirl for a few minutes.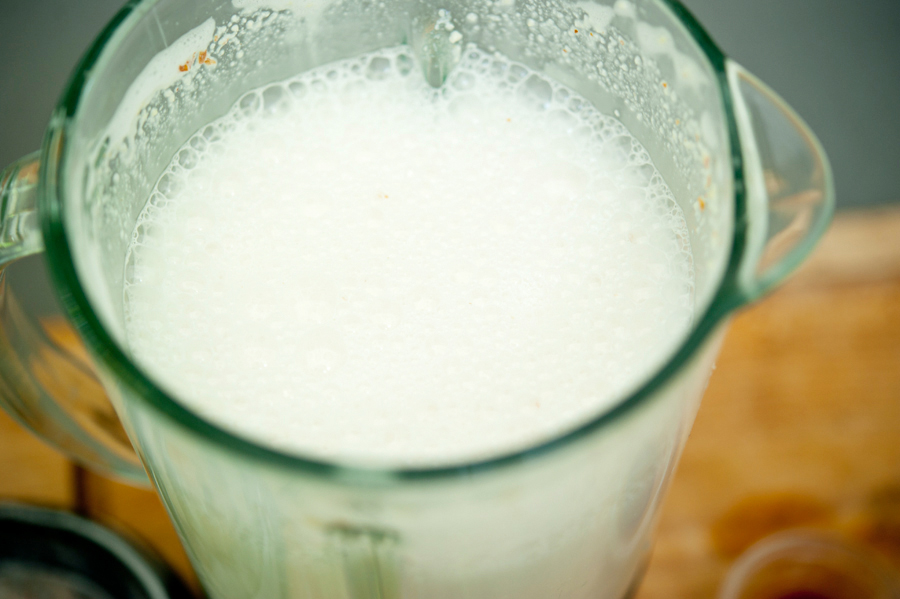 A nice head of foam will start to form and that's when you can stop and add the flavorings.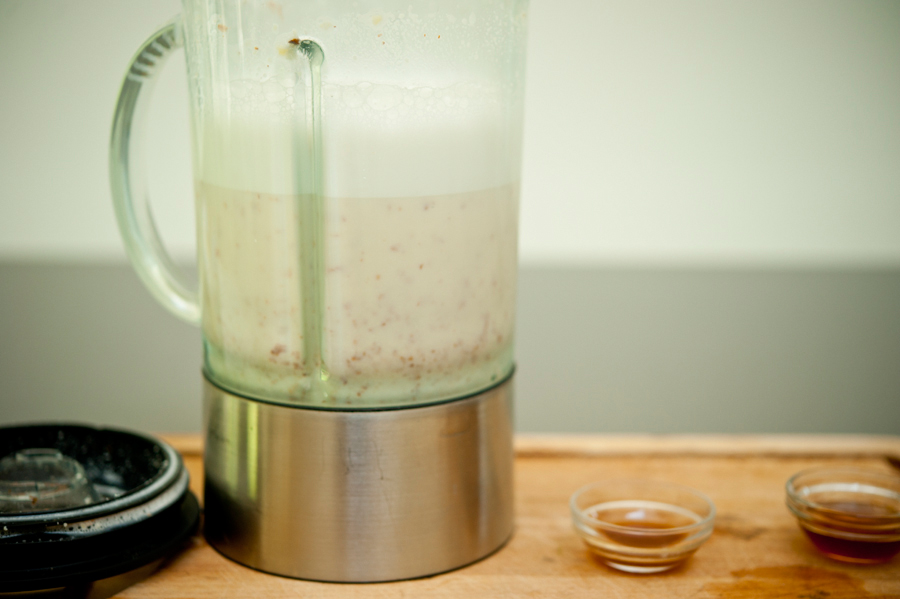 I added some honey from my bees here. But you could try stevia or maple syrup or leave it plain too.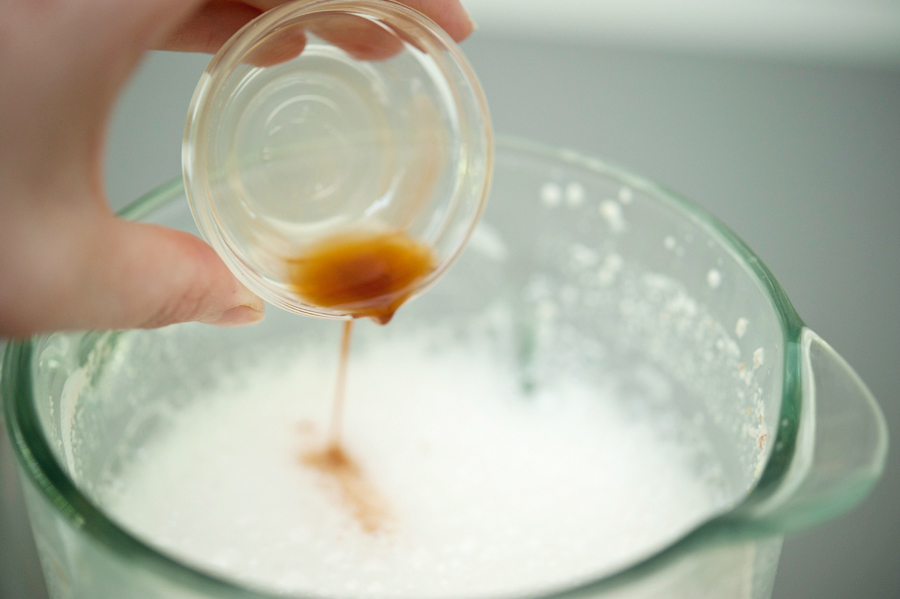 Then I added vanilla. Once again, you could skip this or add cocoa powder, chocolate syrup, cinnamon, and so many other things.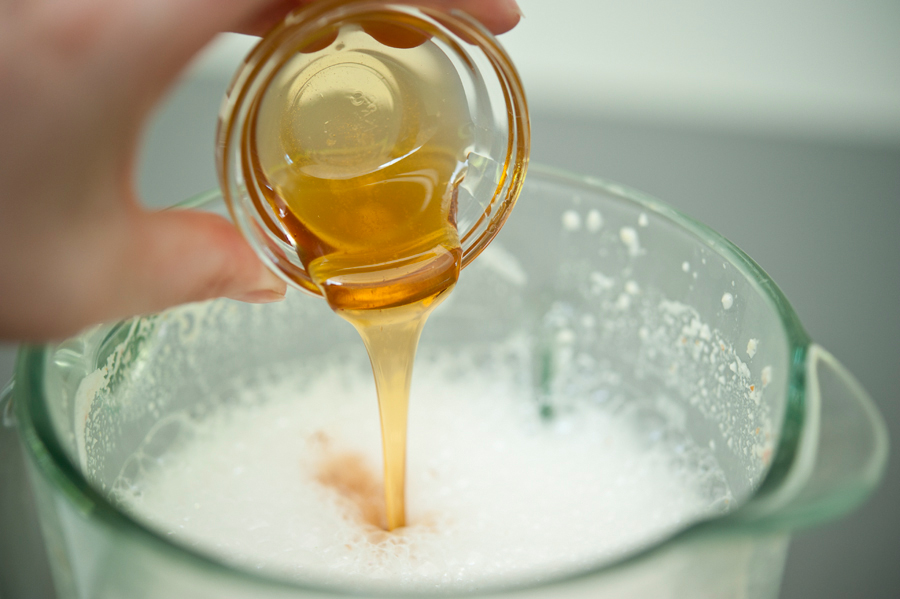 Blend these ingredients together for another 30 seconds and then get ready for the filtering process.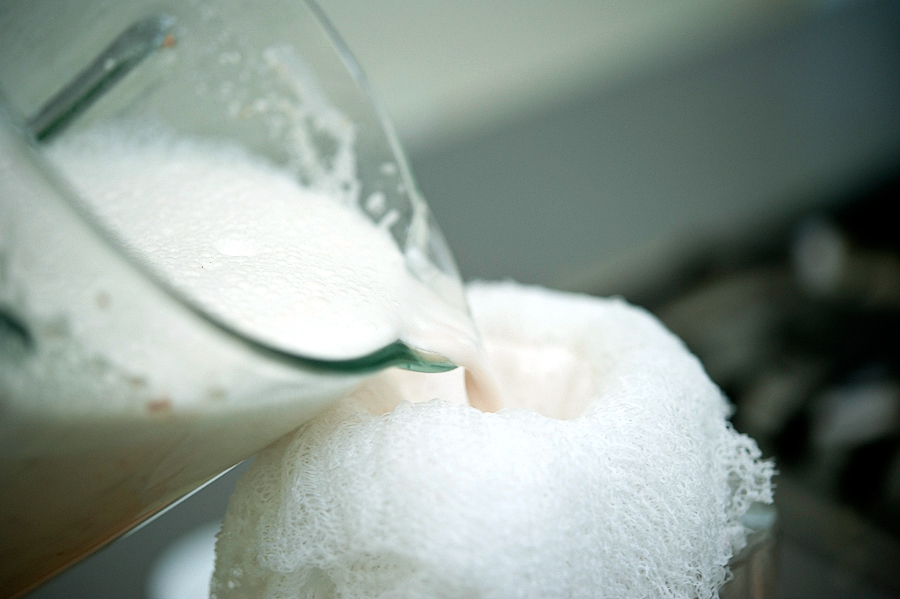 Cut a swatch of cheesecloth and layer it into about four layers. Give it a rinse under cold water and squeeze out the excess. Then drape it over the mouth of a pitcher or Mason jar. If you want to help yourself out you can secure it with a rubber band. Pour in the liquid a little at a time, pressing the excess ground almond that gathers as you go.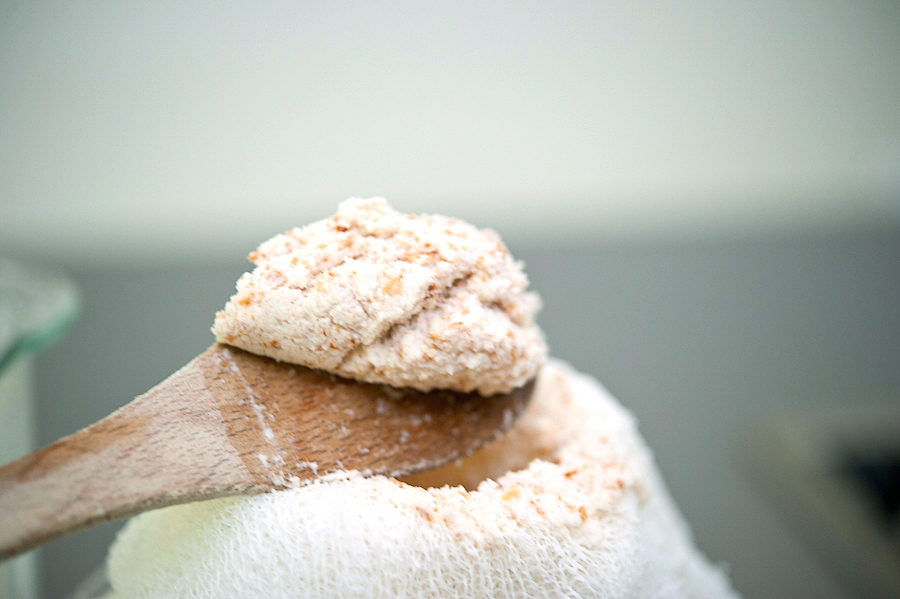 It will help to scoop away some of the ground almond if it builds up too much.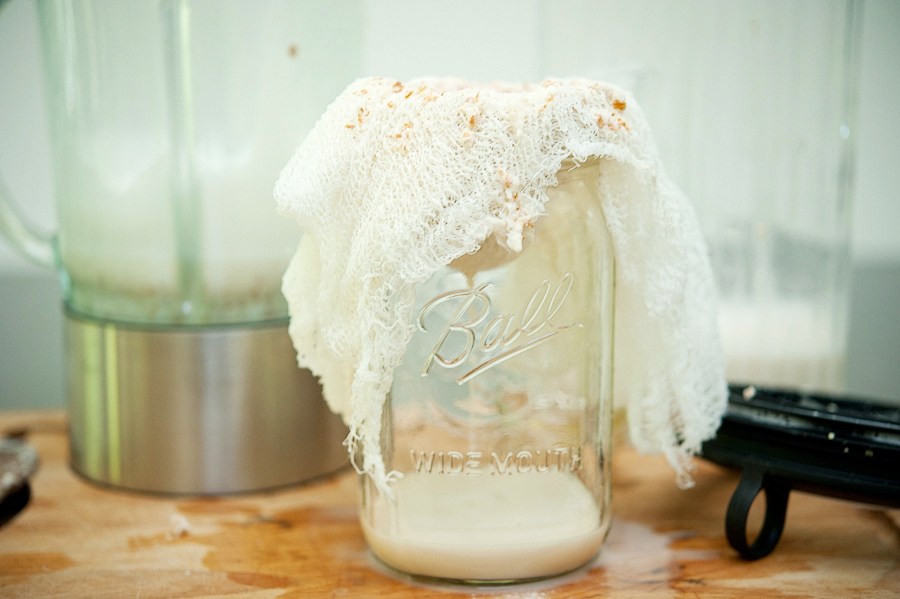 Your contraption will look something like this. Keep adding until you've pressed in all of the liquid.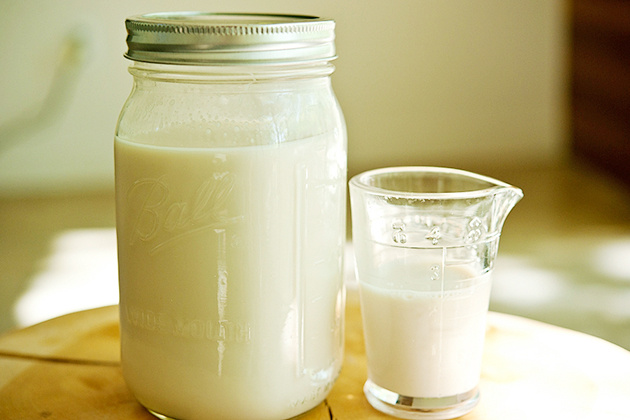 And there you will have homemade almond milk!
Thanks so much to Jennifer's for this great recipe! I'll never have to buy it again.
Printable Recipe
Description
Almond milk is so easy to make, and so sweet. It's a beautiful addition to cereal or your morning coffee.
For this recipe, you need cheesecloth, a big pitcher, and a blender.
Ingredients
1 cup Almonds, Unsalted (preferably Without Skin On)
4 cups Cold, Filtered Water
1 teaspoon Vanilla Extract
1 Tablespoon Honey
Optional Add-ins (a Few Are Listed Below) As Desired
Preparation Instructions
1. Soak the raw almonds covered in water for at least 6 hours, and then drain them.
2. Pour the almonds into a blender and add the cold filtered water.
3. Blend well. When you see a froth on the top, stop blending.
4. Add the vanilla and honey.
5. Blend again for another 20-30 seconds.
6. Take the cheesecloth, and fold to ensure it is at least 4 layers thick.
7. Put the cheesecloth on the top of the pitcher and secure it with a big elastic band. Use your fist to push some of the cheesecloth down into the pitcher so that it is not tight on top.
8. Pour the almond mix through the cheesecloth into the pitcher.
9. Use a big spoon to help push the milk through the mass of almond and into the pitcher.
And voila, you have Almond Milk!
Once you cinch the basic recipe, you'll be eager to try the many possible variations:
For a chocolate fix, add 2 tablespoons unsweetened cocoa powder.
For sweeter milk, throw in a 1/2 cup of dates.
For cinnamon milk, add 1 teaspoon cinnamon and a dash of nutmeg.
For maple flavour, add 1 tablespoon pure maple syrup.
For a sugar-free option, eliminate the honey and add Stevia to taste.


_______________________________________
There's so much to say about Georgia, we don't know where to start. Leaving Wall Street for the French Culinary Institute, followed by a stint at the Gramercy Tavern and La Chassagnette in France, her passion for food and food traditions are evident and inspiring. Visit her site at Georgia Pellegrini, where you'll find more recipes, photos, learn all about her wonderful books Girl Hunter and Food Heroes, and enjoy her latest adventures.