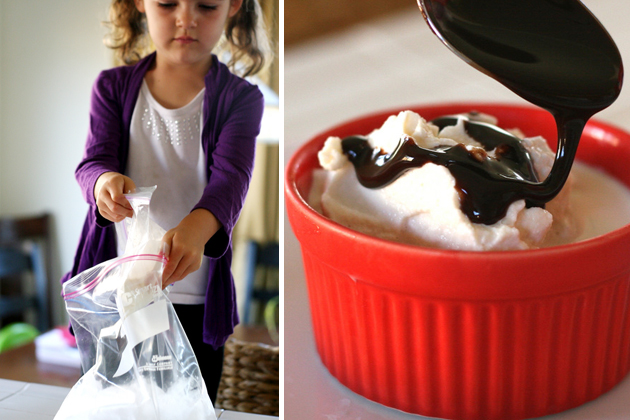 Really quick ice cream. Like, zero to sweet, frozen goodness in under 15 minutes. NOT too good to be true!
When I saw Ice Cream in a Bag by Tasty Kitchen member whatthedogate (Donna) I wondered why I had never tried this before. I thought it might be a fun project to do with my kids, so I gathered up the troops and got started.
To make two servings of ice cream you'll need two pint-sized zip top baggies, two bowls, and two willing helpers.
Pour a cup of half-and-half into each baggie. The bowl is there to help the little ones from spilling it all over the place.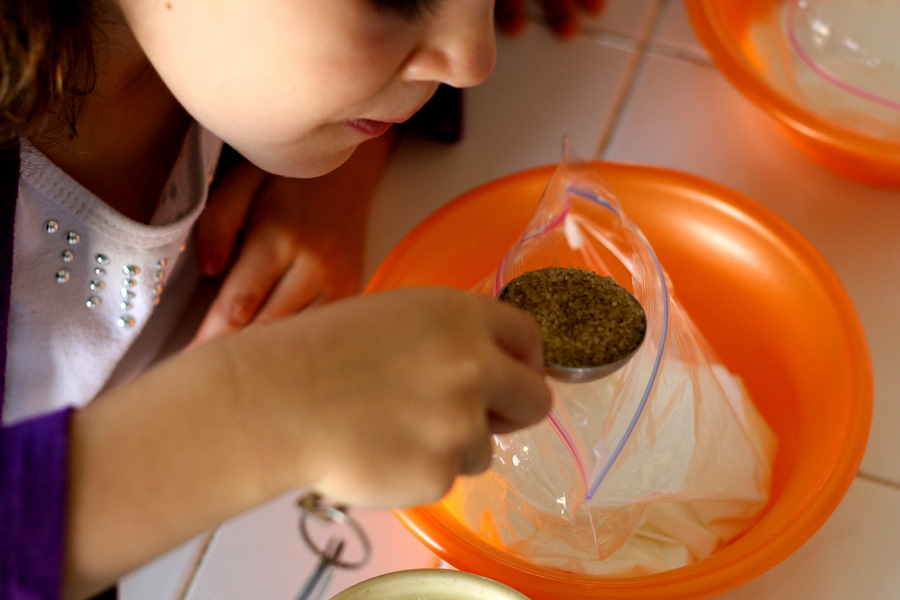 In each bag, add a tablespoon or two of sugar, depending on how sweet you want it. I used raw sugar, which worked nicely.
Now pull out all of your fancy extracts and flavorings. Let the kids pick whatever flavor their little hearts desire. (Only to have them both pick vanilla. I swear my kids have more personality than that.)
Add about two teaspoons of vanilla extract to the bag. (Measurements may differ depending on the flavor you use.)
Zip it up tight! (Very important.)
Next pull out a giant bowl of ice and some rock salt. You know, the kind you use in them old-fangled ice cream makers.
Grab a gallon-sized zip top bag for each small bag and fill them about 1/3 full of ice. (The recipe says 4 cups for each bag.)
Add 1/2 cup of rock salt to each bag of ice.
Now place one pint-sized bag into each gallon-sized bag. To go one step further, place that whole thing into another gallon-sized bag. If that seems a little wasteful, I'm sure they can be easily rinsed out and re-used.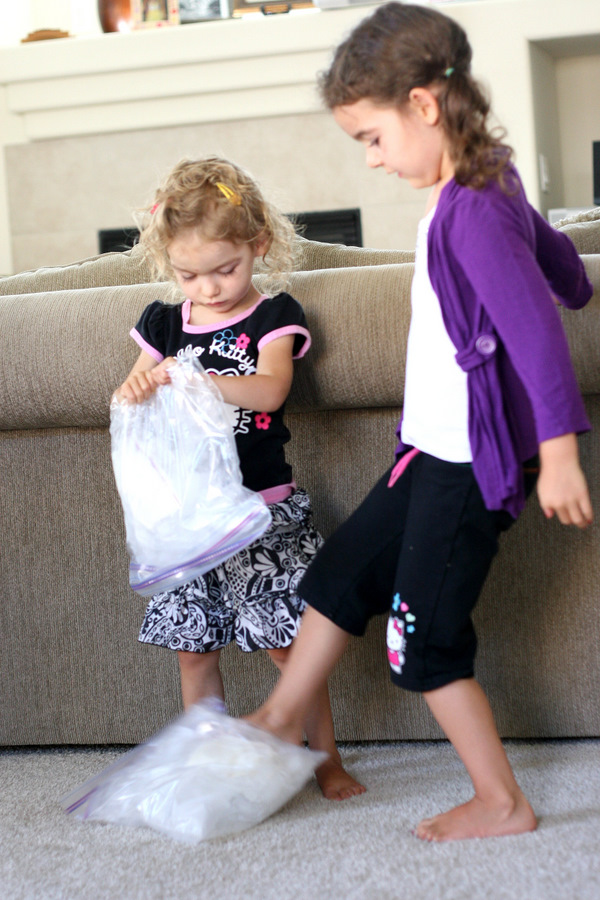 Now let those kids earn their ice cream. Shake, shake, shake! Or carefully kick it around on the floor.
May I take a moment to leave you with a mommy comment? I love my kids. A lot. Becoming a mother is one of the best decisions I've ever made. But motherhood has absolutely crushed my pre-baby dreams of being in charge and doing what I want all day long. Oh, and dressing my kids up everyday to look like Gap models. I have very little say in what they wear and how (or if) I do their hair. Luckily you caught them on a good day.
Back to the ice cream. The bag needs to be shaken for about 5 minutes straight.
If after 45 seconds you start getting looks like this, you might want to step in and help. The recipe suggests sticking the bags in the washing machine through a couple of spin cycles. I tried it and it actually works!
The result? Sweet, creamy, frozen goodness.
If you're expecting Ben & Jerry's to come out of that bag, you may be slightly disappointed. The ice cream isn't gourmet quality, but it's made with fresh ingredients and tastes like homemade ice cream (which is more than most store-bought brands can claim).
Plus, I have never met a kid who was picky about their ice cream.
Thank you Donna for a great activity to do with my kids! Check out Donna's blog What the Dog Ate as well as her recipe box for more great recipes, including Edible Ice Cream Bowls and Homemade Microwave Popcorn!
One note about the recipe: If possible, use freezer bags for the ice cream. Both of my bags leaked a little, and I don't know if it was due to my daughter kicking it around on the floor, putting it in the washer, or using a flimsy pint-sized bag.
Printable Recipe
See post on whatthedogate's site!
Description
In honor of summer, you must, must try Ice Cream in a Bag. It is such a fun, kid friendly activity. And it's so yummy!
Ingredients
4 cups Half-and-half
8 Tablespoons Sugar
2 teaspoons Vanilla Extract
4 whole Pint Sized Zip Lock Baggies
16 cups Ice
8 whole Gallon Sized Zip Lock Type Baggies
2 cups Salt, Rock Salt Type
Preparation Instructions
Measure out 1 cup half and half into a pint sized baggie. Add 2 tablespoons of sugar and 1/2 teaspoon vanilla extract. Repeat for the remaining three pint sized baggies. I used a loaf pan to hold the baggies while I added the ingredients. No spills! Seal the baggies and place them in the freezer while you assemble the gallon sized baggies.
Fill each of four gallon sized baggies half-way full of ice. For me this was about 4 cups of ice for each of the four gallon sized baggies. Add 1/2 cup of ice cream salt to each gallon sized baggie of ice. Now double bag those puppies. That's where you get the 8 gallon sized baggies from.
Remove the ice cream mixtures from the freezer. Recheck the seal on the ice cream mixture to make sure they are well sealed, and place one pint sized baggie into one gallon sized ice set up. Seal each of the gallon baggies.
Shake, shake, shake for at least 5 minutes. For my little ones, this proved to be a little challenging, so I helped out. Then it got a bit cold for my hands. You could try wearing oven mitts to insulate your hands from the cold. Me? I put all four set-ups in my front-loader washing machine and set it to spin. Three minutes did the trick!
This project would make a great summer time scientific inquiry for the kiddos. "Which agitation method produces an ice-cream like consistency in the fastest time?" I fully expect everyone to try this out and report your results in the comments section. Now get shakin'!


_______________________________________
Be sure to check out Natalie's own beautiful food blog, Perrys' Plate, where you can see her growing collection of lovely recipes. There's always something new to see there. Go visit now!